As we progress throughout the school year, we will add photos of whole school events to this page. Individual class photographs and news can be found on their class page.
MERRY CHRISTMAS AND A HAPPY NEW YEAR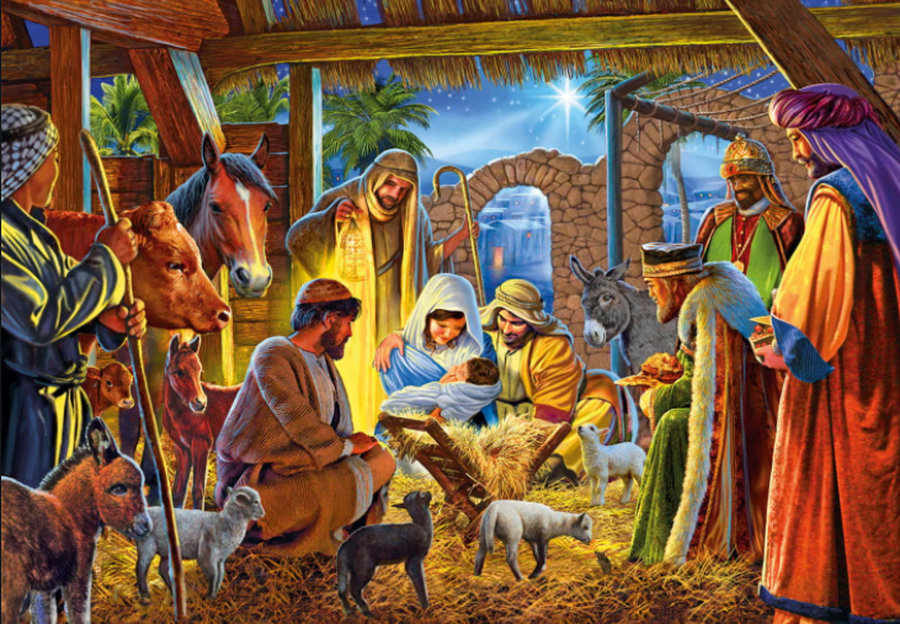 We would like to wish you all a healthy, happy Christmas and a blessed New Year. Thank you to the whole school community for your hard work and dedication this term.
We look forward to welcoming you all back on Tuesday 5th January 2021, for another term of fun, learning and success.

We are proud to announce that this year we are working towards the Arts Mark; in recognition of all the fantastic work in the arts all children at Crowle First School are doing. We wish to showcase all the fantastic work we already do, along with exploring even further options to offer our pupils even more opportunities in art, drama, dance and music.
Please go to our Arts Mark page (under School Information) to find out more and to see just some of the evidence of what we already do.
POPPY APPEAL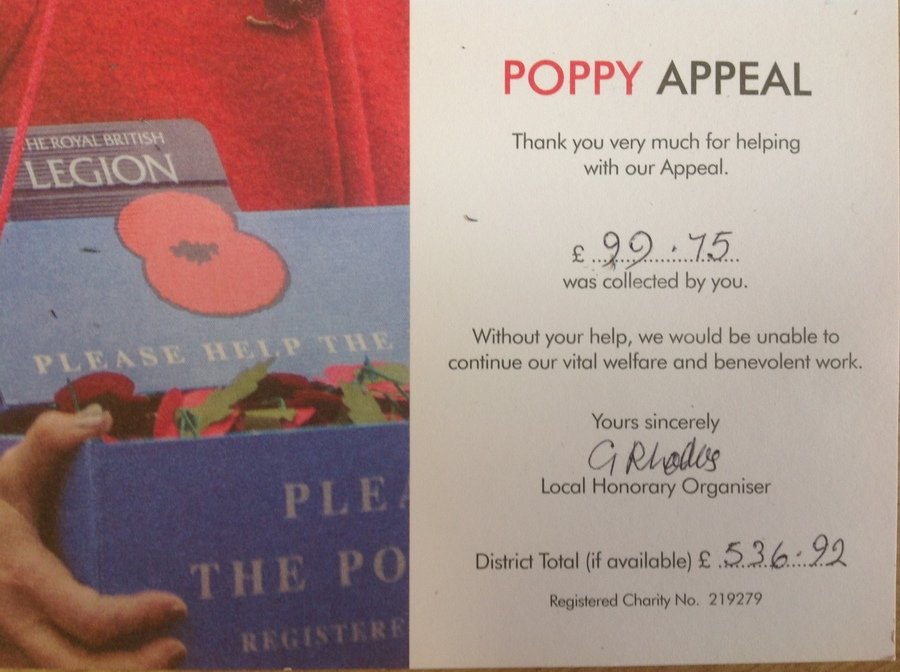 A huge thank you to all those that donated to the poppy appeal this year. I am so proud to announce that we raised very nearly £100 for this incredible organisation. Thank you all so much for your generosity.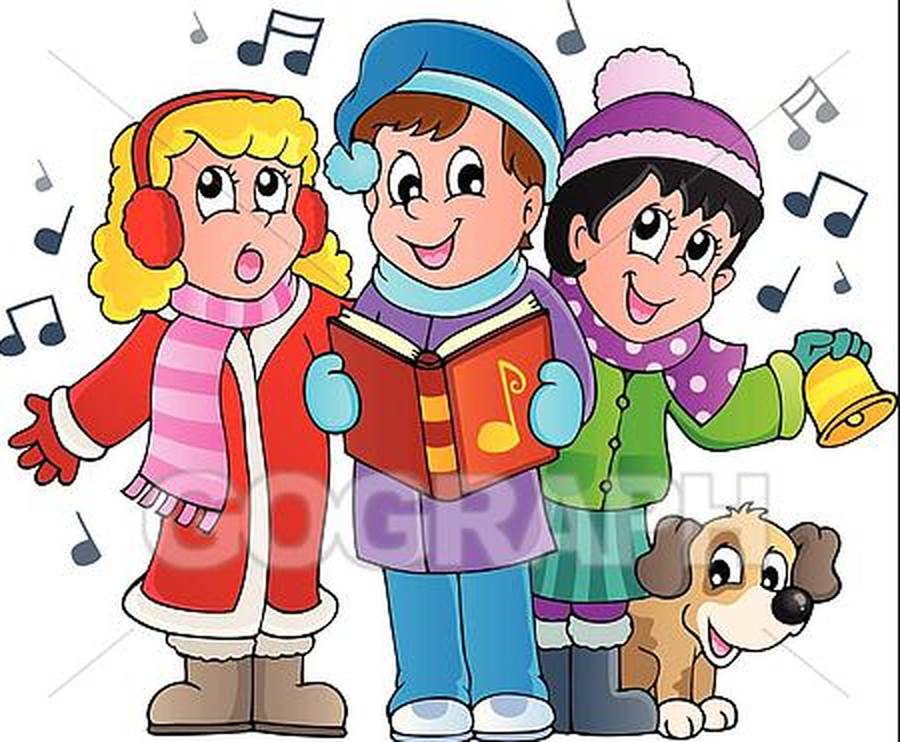 You are invited to join us at our Christmas Carol Concert in the playground on 17th December 2020, at 5pm. Please wrap up warm, bring a torch ... and your best singing voices! This will be an opportunity to come together as a whole community, listen to the Nativity story and sing some carols together. We hope to see you all there.
Only 2 adults per family, in order for social distancing to be maintained.
Friends of Crowle Virtual Bonfire Trail
The winners were announced in collective worship this afternoon. Click on the image below to see who won!
Children in Need
A huge thank you to all those who donated to Children in Need this year. We made a fantastic £118.60 for this wonderful charity. Your generosity is truly appreciated.
We Will Remember Them
Thank you to everyone who has donated to the Royal British Legion Poppy Appeal 2020 this year. The children will be marking Armistice Day in their classrooms as we cannot get together in the hall for a collective act of worship.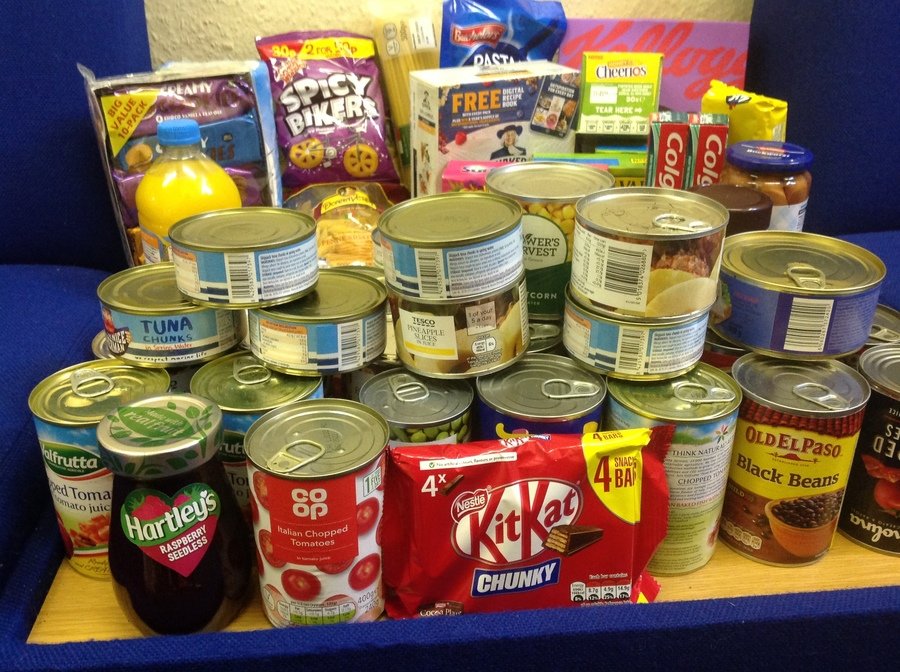 Unfortunately we were unable to celebrate Harvest in Church, like we usually would. However, we would like to thank all those families that still donated vast amounts of food for the Food Bank - I know it will be greatly received. As a Church school, we feel it is so important to give to those in their time of need; and now I feel some families need this support more than ever. Thank you so much for your generosity of spirit.
This picture is only a fraction of what was donated - thank you so so much!
Thank you to Friends of crowle
The children in KS1 and KS2 received their first music lessons with Severn Arts this week thanks to the tireless fund raising efforts of the Friends of Crowle committee. Valuable funds were released to ensure that every child in years 1 to 4 has the opportunity to learn to play an instrument. The funds raised have been used to pay for a skilled music teacher to work with the children on a weekly basis and for the loan of an instrument. The children in years 3 and 4 are learning to play the cornet and will be taking their instruments home once Mr Oldham is confident that they can assemble the instrument and produce a few notes. Loan forms went out on Wednesday and need to be returned to school as soon as possible, so that the cornets can be used at home and school. In years 1 and 2, the children are learning to play the African drum. As the drums are almost as big as the children we will be keeping the drums at school. Mr Hughes was impressed with how quickly they picked up the rhythms.
If you want to find out more about Friends of Crowle, see their notice board to left of the playground gate to find out how you can get involved. Their chair, Mrs Sian Hughes (year 4 parent) would be happy to discuss any fundraising ideas you have - Covid 19 has brought with it new challenges for fundraising.
We have been using iSing Pop in school, to supplement our classroom worship. They also have a YouTube channel in order for families to worship at home together, if they wish. This is their first iSing Pop Home Worship video - but there are lots more on their YouTube page.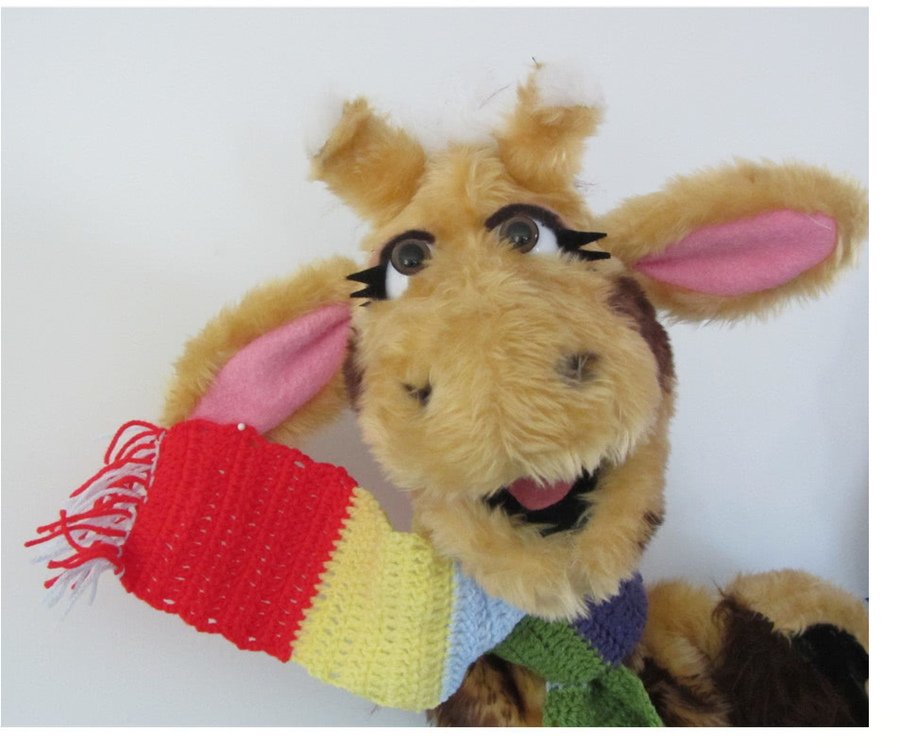 This is Harold the Giraffe. He will be supporting us this year throughout our PSHE lessons, from Reception through to Year 4. We are going to be using the "SCARF" scheme of work and today Mrs Abbott introduced Harold to us all. We learnt that Harold wears a stripy scarf, and each colour on his scarf represents something different (which we will use throughout our lessons this year). They represent
S is for Safety
C is for Caring
A is for Achievement
R is for Resilience
F is for Friendship
PSHE lessons are a time where we can learn about ourselves, others and how to respect everybody.
SCHOOL DEVELOPMENT PLAN 2020-2021
Every year, as a whole school community we work towards the collective goals of our School Development Plan. Mrs Abbott shares it with all classes in order for us all to know what we are working towards.
Child's School Development Plan 2020-2021
Starting a new school year
Tomorrow is the start of a new school and one that we have all been looking forward to for a long time as we will be returning as a whole school. We welcome our new reception class and the new joiners in year 2 and year 4. We would also like to wish all our leavers a very happy and successful start in their new schools.
Leavers Service, July 2020
Yesterday, 20-7-20, was a momentous day for our year 4 pupils as they gathered with their parents and teachers to say a fond farewell to the school that has played such an important part in their lives so far. As a staff, we feared the pandemic may prevent us giving the children the send off that they deserved, but with social distancing relaxed to 1 metre plus, our beautiful grounds and some glorious weather, we were able to bring the service from the Church to school. The backdrop of our treasured oak tree seemed a fitting place to hold the service and the children's faces (the ones they painted in their first days of school) were brought out of the hall to decorate the stage area along with beautiful rainbow coloured bunting provided by Miss Simpson.
The children picnicked with their friends and teachers before showing off their talents in Year 4 has talent hosted by Pink O Rock, who was on hand to dance away any tears or nerves. We had a dance act, a song with a historical theme, a mystery act and a poem about friendship to enjoy. There was also time to chat, reminisce and sign jumpers before the parents arrived for the service.
With Miss Morris taking over from Pink O Rock, the tears did flow during the service, but although children, staff and parents alike were sad to be saying goodbye we are sure that the tears were a mixture of happy and sad ones. We were pleased to welcome Reverend Morris to lead the service and blessings. The children read their memories beautifully. Following the service their was a surprise slide show and gifts in the classroom before Miss Morris led the great table jump to end the afternoon.
Well done year 4, I am so proud of you - you will be amazing wherever your future takes you.
Miss Morris
Thank you to Miss Johnson, who recorded the service, I hope your arms have recovered today!
Farewell Year 4
In what has been an unusual year for everyone at Crowle C of E First School, the year 4s have faced the cancellation of many events which have become traditional in your final year at our school; a residential trip, a church service, cluster sports and disco, setting up the events at Sports Day and having their shirts signed. We are pleased that we have been able to organise a Leavers Afternoon for the year 4's and their parents to get together and say goodbye properly, but as their teacher I wanted to share how proud of them I am with the whole school community. If you would like to leave a memory of your time with them or a message to wish them well, pop it in the guestbook below the video and I will make sure it gets to them.
Have a great summer everyone, from Miss Morris.
Comments (5)
Show Comments
The Gee's
(about a year ago)
We would like to say thank you to all the staff who contributed to the nativity. Tough times, but it shows how you can still do things remotely for all the parents to see such a lovely school production. Thank you again
Amelia.M
(about a year ago)
Hi MissMorris hope your having a great day!
Ali M
(about a year ago)
What a beautiful song with such apt and lovely lyrics!
Miss Morris
(about a year ago)
It's been uploading since lunch time! Hopefully by morning it should have uploaded for everyone to enjoy.
Sam P
(about a year ago)
Hi Miss Morris, thanks so much for posting these videos, unfortunately the link for the leavers service one doesn't seem to be working...
Virtual Sports Day 2020
A huge well done to all of you that took part in our first (and hopefully last!) virtual sports day and thank you to parents for sending score sheets in. We had lots of fun completing the different challenges in school on Wednesday and the children all worked really well together, tried their hardest and persevered with the tasks.
All classes did so well that I have awarded it joint first place for all the children and the teachers came in second place. Well done everyone! The teachers will practice their jumping and throwing over the summer holidays!
Special mentions go to Abigail for inventing a unicorn leap for the long jump, Lily for doing the funniest sock throw , Max for putting the socks on his hands to give him superpowers for his huge jump and Olivia for stepping in as the teacher (although she was very strict and expelled half of the class.)
Have a wonderful summer everybody. I wish all the year 4 children good luck for their new adventures and I look forward to seeing the rest of you in September.
Love,
Mrs Lindsay
REPORTS AND SCHOOL UNIFORM SALE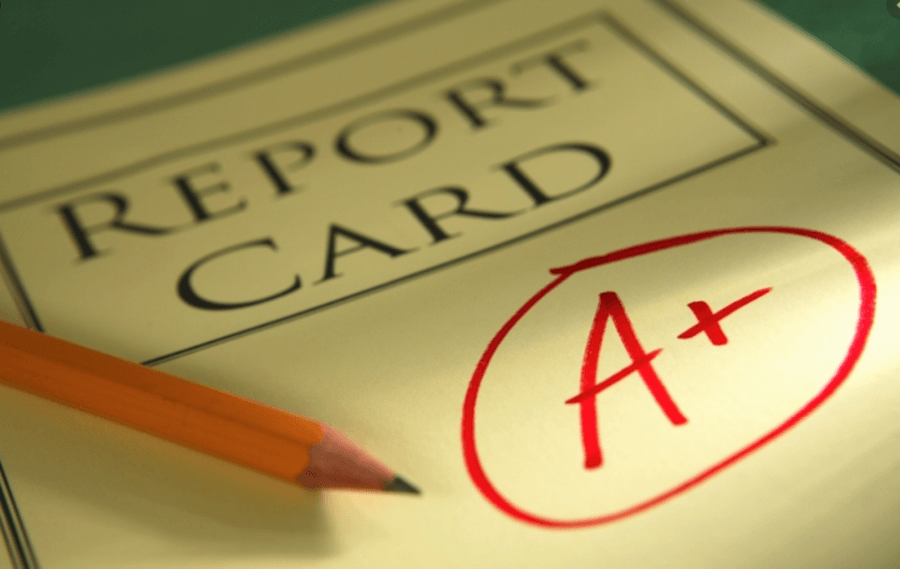 If your child is in Reception or a Key Worker then they will bring their report home with them, as always.
However, if your child does not currently have a school place then you are invited to come and collect your child's report on Monday 22nd June 2020 at the following times:
9.30am to 10.30am - Year 1
10.30am to 11.30am - Year 2
11.30am to 12.30pm - Year 3
1pm to 2pm - Year 4
If you have two children in the school, then please choose one of the time slots and collect both of them at the same time.
At the same time, Friends of Crowle will also be holding a second hand uniform sale. Therefore, if you have any unwanted, clean uniform then please drop it in to school before this time. All proceeds will go to the school. We would ask that you keep to all social distancing rules as you purchase any items.
If your child is a Key Worker or a Reception aged child, you are welcome to come along to the uniform shop at a time that suits you.
If you know somebody who is joining the school in September 2020 - I would ask that you inform them of the above uniform sale, in case they would like to purchase anything at the above time.
BACK TO SCHOOL FOR KEY WORKER AND RECEPTION CHILDREN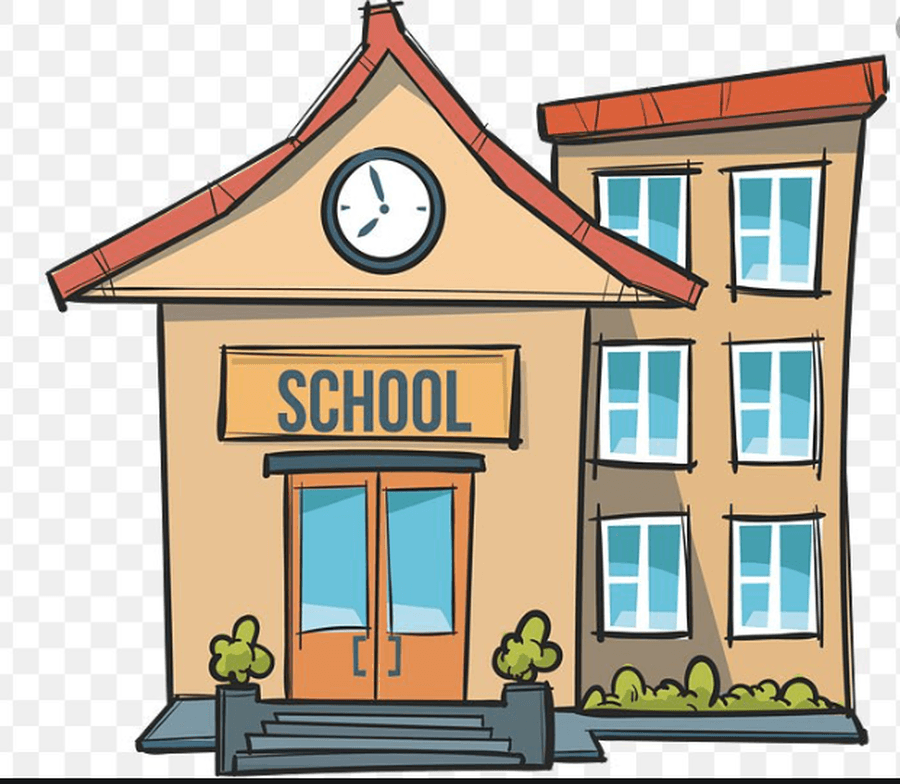 We welcomed back Key Worker and Reception children to Crowle First School last week. This was a very bitter/sweet moment for us as a school community; of course it was wonderful to have more children back in to school and to feel like the school is beginning to regain it's heart beat, but it was also tinged with sadness that we cannot yet have ALL our children back with us. We miss you all and think about you all the time. It is important that families realise we are still here for you and you can contact us any time.
We know that children at Crowle are "committed to their learning" both at home, and at school. Teachers are still preparing home learning for those children who are unable to be in school and you can email them and send them photographs about what you have been up to. Please leave comments on the home learning pages - adding to class discussions and offering your input in to your lessons. Teachers will also telephone children, if parents feel this would be beneficial, to ensure they are continuing to work from home.
As your Headteacher, I would just like to say how proud I am of all the children both in school and at home. I long for when we can all be together as a whole school community again, but I think and pray for you all daily.
Keep up the hard work!!
While we can't hug!
All You Need Is Love - Crowle Singers
We received a link to this wonderful collaborative music project, which was put together by musical talent from Crowle and beyond. Watch carefully to see if you can watch Amelia, Georgia, Ethan and Harvey make their debut YouTube appearances alongside their mums. It was lovely to see you representing the school in such a positive way - you have all earned a pompom in confidence on your return. Taking part in the project prompted a question from the girls around how many of the people taking part had a link, either past and present, with the school? We have made contact with Kevin who has agreed to ask the participants to visit our webpage and leave comments about their connections with the school. We would also love to know from everyone taking part why they were motivated to take part, how they felt during the process and how they felt when they watched the completed video for the first time. Thank you to Mrs Brierly, who shared the information about the project with Miss Morris, for giving the children at Crowle CE First School to continue their love of music.
Comments (10)
Show Comments
Sharon Brett (violin) and Carrie Brett (cello/singing)
(a couple of years ago)
We were involved in Kevin's 'All you need is love' project as we are both live in the village. We enjoyed it immensely and thought the finished video was amazing! Carrie is now 22 and has been playing musical instruments since attending Crowle 1st School back in the 2000's. She is pictured above top line 2nd from left. She graduated from University with a degree in Music in 2019. She plays cello for the Worcestershire Symphony and Philharmonic orchestras and was previously involved with the local music service Severn Arts. She also plays the piano and teaches students young and old! She would happily share her love of music with you all at school. Sharon was a violinist when younger and now sings in a local ladies choir. When working at Crowle Pre-school, music was very important in the whole ethos of the group and a fantastic way of communicating and helping children develop confidence. Please do not hesitate to contact us if you would like to ask any questions or learn more about the instruments etc. Take care and hope all is well at your lovely school with staff and pupils alike.
Miss Morris
(a couple of years ago)
Thank you to everyone who has taken the time to comment on this video, the children and I have really enjoyed finding out a little about you and what motivated you to take part.
Fiona Taylor
(a couple of years ago)
I love singing but am not part of any choir or group just now - so when a friend, who is one of the Crowle Singers, publicised this I was really motivated to have a try. I got hold of the music and then leant it - even though it's a well known song I wanted to be as accurate as I could. It was strange to sing at a conductor on You Tube! What really helped was my very good headphones, which were a Christmas present, never thought I would use them to help me sing, as they were so I could listen to good quality music! I was looking for something to challenge myself a bit during lockdown and this totally new experience was the perfect thing. Making music is really fun, even when socially distanced and self isolated!
Angela Hussell
(a couple of years ago)
Hello everyone, I'm not part of the Crowle community but am a regular supporter of the Crowle Singers. Some reasons why I chose to take part: 1. I love to sing and miss singing with the choir I belong to. We stopped practicing at the time of the coronovirus lockdown. 2. Kevin Dowson, Crowle Singers leader, is an inspiring and talented musician. 3. I love The Beatles music. 4. I wanted to challenge myself to do something different. It wasn't easy and took quite a few tries before I was happy to send a recording of my singing to Kevin. 5. I was very pleased with myself once I had done it and couldn't wait to see final video. A message to you all - take opportunities that come your way no matter how small. The chances are they will bring you pleasure and make you realise you can do more than you thought!
Rebecca
(a couple of years ago)
Our 4 children all attended Crowle First School. They continued up through the Pershore Pyramid and developed a love of music and playing instruments. Playing at home has given a great outlet and relief from weird times that we are in, and they were happy to support Mr Dowson in his efforts because of the wonderful example he, Helen and, particularly, Matthew through Cobras Tae Kwondo have shown the boys. We are grateful to the National Air Cadet Concert Band, English Symphony Orchestra Youth section and Mr Dowson and the Crowle Singers for efforts to continue to enable people to make music 'at a distance'. It has given family and friends across the country and continents a lot of pleasure. Thank you. Best wishes to all at Crowle First; we have fond memories.
Kevin Dowson
(a couple of years ago)
Whilst I wasn't a pupil I have been a friend to Crowle C of E school for a long time, particularly in the last four years. I've really enjoyed working with the school's choir at Christmas and Summer visits to the Malvern show. Being a Crowle resident I've been very motivated to find a way to use my skills to benefit everyone that lives in the village during this very challenging time. What if I could get residents of all ages to take part in a virtual performance of a well known pop song?! The idea of 'All you need is love' was born! Creating the videos I submitted for the project was great fun!! It has been a long time since I played my clarinet - to play it for this project was really enjoyable! It served as a reminder to me that simply being involved in music making, whether on your own or with a larger group of players/singers is SUCH an enjoyable activity. My message to all of you is - making music is FAB!
Livi ( Olivia ) k
(a couple of years ago)
Great video I loved it well done mimi and Georgia and Ethan and Harvey you did great
Sam P
(a couple of years ago)
Thank you for sharing this video. Amelia and I had so much fun taking part, learning the music and playing our instruments together - I haven't picked up my flute for many years and it reignited my love of playing and learning music. Amelia loved the fact we could play and learn together and that our parts were quite similar! The week we spent learning it together (and the whole family happily singing it all week as we wandered around our home and garden!), will hold very special, beautiful lockdown memories for years to come. It was also fantastic to learn and understand more about how these videos are made and recorded individually, and to be a small part of one. It was amazing to see the finished article. We were both a little nervous as we didn't know what to expect, but the end result is a credit to the amazing team who put it together so fantastically. We would like to say a massive thanks to The Crowle Singers for welcoming us to be a part of this project, and also a huge thanks to Mrs Brierly for helping to grow Amelias love of music from a very young age.
Mimi
(a couple of years ago)
Thank you for putting up this video, I was motivated to take part because I really like music, when we were learning the piece of music and practising I enjoyed learning it and playing with Mummy, I liked having to listen to it through headphones and watching the conductor on the video to know when to play. It was really fun to do. When we watched the video the first time at first I felt awkward because I didn't know what it was going to be like but then I thought it was really good and loved watching it. Thank you to the conductor and everyone who took part.
Miss Morris
(a couple of years ago)
Well done Amelia and Ethan it is wonderful to see some of our class taking part in this community event. It was lovely to see your mums, Georgia and Harvey getting involved too.
WEEK BEGINNING 18th MAY 2020
This week the Key Worker children have been studying the work of Mondrian - a Dutch artist who explore colour and form. The children looked at a wide range of the artists work, and then created their own. We have some very artisitc children at Crowle!
During their independent learning, the children chose to explore an Atlas. They spoke about the countries and continents - and decided to build their own boat, to sail the seas and visit the lands. They worked as a team to create their boat and set off on their adventure. The language and team work for this self chosen task was simply excellent!
Better Together
The year 3s have been working on a collaborative art project from their homes. All their individual pieces fit together to make a larger picture. The children surprised Miss Morris and Miss Simpson with it when they were in school this week. It made their day and was a fabulous addition to Simpson Fest which was being held across Crowle and Worcester in the homes of the Year 3 and 4s to celebrate Miss Simpson's birthday. As you can see Miss Morris and Miss Simpson were dressed for the occasion. Miss Morris and Miss Simpson have now installed in their classroom and it is brightening their day.
Week beginning 4th May 2020
Happy VE Day to you all!!!
We have had a lovely week in school this week learning all about the VE Day celebration in 1945. We learnt about Winston Churchill and how the people celebrated such a momentous moment in their lives. We have created our own VE Day bunting, along with art work, medals and flags. We have also spent time in Forest School, played a range of games and continued to work on some of our online learning.
A Special Message To All Our Crowle Families
Comments (9)
Show Comments
Kate Gee
(a couple of years ago)
Such a lovely video, you are all missed and Sebastian loved watching it, especially Miss Morris in her fabulous outfits!
Hughes'
(a couple of years ago)
A beautiful video, if a little emotional! Thank you all for taking the time to make it. We all loved it.
Livi k
(a couple of years ago)
Thank you
Liz Jones
(a couple of years ago)
Thank you for sharing such a beautiful video with such caring words and a meaningful song. Hope it won't be too long before the school is filled once more with happy smiling children.
Mimi and Georgia P
(a couple of years ago)
I like your costumes Miss Morris! We really love this it is nice to see everyone That was wonderful, so lovely and beautifully put together - thank you (Sam)
The Kelsall-Knight's
(a couple of years ago)
This is absolutely wonderful and sums up what a wonderful school Crowle is. Well done everyone. Cam and Meg loved it.
Kate Hall
(a couple of years ago)
That was so lovely - thank you everyone! The boys really enjoyed it (& so did I). Miss Morris - you have some great fancy dress outfits! Take care everyone x
Harry
(a couple of years ago)
Amazing
Alison McIndoe
(a couple of years ago)
Lovely, lovely message - thank you. The children loved it
Crowle lockdown postbox
Several of Crowle Church's Parishioners are shielding so, we enlisted the help of Reverend Morris and Mrs Brierly to find out their addresses. We then invited the children at Crowle CE First School and those at home to write a 'Dear Friend' letter which we posted during a walk around the village. We hope they bring a reason to smile to the local community. Thank you to Rhuaridh, William, Jessica K, Amelie, Cameron KK, Henry and Archie C for your letters. The next delivery will take place on Wednesday 13th May 2020, so if you would like to contribute a letter please pop it through the door at school and we will deliver it for you.
Thank you Key workers
The children of Crowle CE First School understand the important work that Key Workers are doing across Worcestershire to look after those who unfortunately get sick with Covid 19 and those who are keeping the country going while we fight this virus. At school the children of Key Workers joined together to create a sign to show their thanks, which we have displayed over our school sign. I am sure you will agree they have done a brilliant job. Love on the Rocks has become another way that children and parents around Crowle are saying thank you and raising the spirits of people out for their daily exercise. As a staff team we have been pleased to be included in this, finding some wonderful stones on our drive and doorstep over the last few weeks. It always lifts our spirits to have contact with you all in whatever we can, as all of the teachers and support staff are missing you all. Unfortunately, we haven't had the opportunity to photograph them all as they move around the village quite rapidly but we did manage to get a photo of these wonderful stones left by Jess and Edward in year 1 and 2.
Finally, all of the teachers would like to thank the parents who are doing an amazing job of home schooling. We appreciate that it doesn't always feel like that when you are in the middle of it, but I can assure you that whatever timetable (or not) that you are following, whatever home learning you finish (or don't) you are doing the most important job of responding to your child's needs and you are maintaining their emotional wellbeing and love of learning so that when school can reopen they can return safe, well and happy. We as teachers can then continue our job of teaching, filling the gaps created by the school closure and ensuring that they make their expected progress next year.
A new window in Year 3 and 4
School is currently closed, like all the other schools across the UK, because of the Corona Virus outbreak. However, some of our children are coming into school so that their parents can continue to work as keyworkers. Miss Morris and Miss Simpson have really enjoyed their company and the chance to get creative. Across the week, the group worked collaboratively to transform the main door from the year 3 and 4 classroom to the playground. After taping out the design in copper tape, the children painted the panels using glass paints. It is a beautiful addition to the classroom, even when the sun isn't shining, and has brought a much needed smile to everyone's face this week. (17/4/20)
This week is National Science Week. We chose to mark the week with cross class working. The theme for our science day, held on 13/3/20, was light. We chose to focus on light following some questions about a Sundial, that featured in a book being read to year 1 and 2 last week. We started the day with a quick meeting to explain the activities and get the children into their groups. Well done to Amelia P, Eva and Lily-May who led the groups; ensuring that everyone was where they should be and assisting anyone who had difficulties with any of the activities.
Mrs Roberts planned and led a session looking at how shadows are made. The children made shadow puppets to reinforce their understanding. Miss Johnson took on the challenge of answering the children's questions about Sundials. They found out how and why they are used before making their own to use at home. Miss Morris led scientific inquiry; the children discovered how light passes through objects, becomes absorbed by objects and reflects off objects. The children enjoyed using the 'magic torches' to discover a hidden picture. The children discussed the science rather than the magic, proving that it wasn't magic after all. Dexter (Year 2) told Miss Morris, "The black paper absorbed the light so the picture on top was difficult to see but the white paper torch reflects the light so we can see the picture clearly." Max (reception) told Miss Morris, "Dark colours don't work, "when we changed the colour of the torch. The children then went on to investigate which material would be best for Miss Morris's new black out curtains. Although Ruariridh's (reception) chosen material was not great for a blind he decide it would make a good light shade because, "It stops the light hurting your eyes but lets enough light to see my book."
Comments from the children:
"Miss Morris, I am really loving Science Day." Jessica K
"I enjoyed all of it." Minnie
"Its fun." Zachary
Comments from a visitor observing:
"This school shows caring and inclusion in all it does."
Tag Rugby Tournament
Pupils from Year 3/4 represented Crowle at the Tag Rugby Cluster event, at St Nicholas School, Pinvin. The children did SO well, and we were proud of every one of them. The children demonstrated real sportsmanship and worked together as a team. It was a delight to watch their confidence grow throughout the morning, and we are so proud of all of you!!
Thank you to "Friends of Crowle" who came in to make pancakes with all children. The children all had a go at mixing the ingredients to a batter mix, and eating a delicious pancake. Yummy!
Internet Safety Day
Today we have all been learning about how to keep safe online - and the importance of not sharing personal information over the internet. Children used "Smartie the Penguin" as a mascot to talk about what cyber bullying is, how to correctly purchase apps and what inappropriate content on a computer is (in an age appropriate manner). Older children also learnt about their online footprint, and why there are certain age restrictions on different app's. We take online safety very seriously - and all children know that if they find anything upsetting on a school computer then they automatically press the "dolphin" button on the screen, and talk to a teacher. Likewise, if they see anything at home that makes them feel uncomfortable - they must speak to an adult about this.
Further online safety information is available on our Safeguarding page on this website.
Christmas Wishes
All the staff from Crowle First School would like to wish you all a very merry Christmas and a peaceful new year. We have all had a fantastic first term - and look forward to seeing you in 2020!
Christmas Lunch
As a whole school, we all shared our Christmas lunch together. It is a really special time to all come together and share a special meal. What a wonderful Christmas week we are having!!
Family Service - December 2019
Each half term we have a Family Service at Crowle Church. This is an informal service, for parents and children alike to share a special moment in God's church. Rev Morris always leads the service, and this month the "Open the Book" team (along with children from Year 3/4) portrayed the Christmas story for us. Children also read prayers of thanks to the congregation. We would like to thank all those who are involved for giving us these special moments to share as a whole school together.
Crowle Carol Service
The children of Crowle performed at the Crowle Carol Service at the local church. They displayed their commitment to learning songs, practising their musical instruments and working hard to put on a super show. They sang so clearly and beautifully - they stole the show! We are so proud of the wonderful children at Crowle, and how hard they all work in everything they do. Well done!!
Crowle Christmas Tree Competition
Each year Crowle Church have a Christmas Tree Competition. This year, the "Friends of Crowle" decided to use our School Development Plan focus of "Reading for Pleasure" to create a book themed Christmas tree. Children then decorated the stars that were positioned around the tree. I am pleased to announce that Crowle First School's tree won in the "children's category"! Hurrah! Thank you so much to all those families that donated books for the tree, and to the Friends of Crowle for creating a winning tree! Congratulations to all involved.
In December 2019 the children did a wonderful performance of "Rock the Baby" at Crowle Church. Every pupil demonstrated their confidence to perform in front of a group of people, and their commitment to learning their lines and practising their songs. We were so proud of every child - you were all wonderful!!!
Decorating the Christmas Tree
The children and staff are delighted with their new Christmas tree. The tree, along with all its decorations and a nativity scene, was as a result of the kind thoughts of Mr Cooper nominating school to be in his company's Christmas Advent Calendar. The children and all the staff would like to say a big thank you to Mr Cooper and Prologis for their generous gift. I am sure you will agree that it looks fabulous, especially as every child across the school was involved in its decoration.
Children In Need 2019
Due to the rain and subsequent flooding closing our school on Friday the 15th November, we had to postpone our fundraiser in support of Children in Need. So a week later, we came to school in our pyjamas, onsies and dressing gowns for a fun packed morning of activities.
We kick started the day with celebration assembly, it felt strange to be collecting our certificates in our nightclothes. We split into 4 mixed age groups. This was the first opportunity for the children in reception to take part in a timetable of activities with their friends from years 1 to 4. Abigail, Olivia, Lily-May and Isla-Grace (year 4 pupils) did a brilliant job of leading the groups. Over the morning the groups were involved in 4 activities; Mrs Roberts planned a selection of Pudsy themed crafts, Miss Morris taught us to sign our names, useful greetings and the song - Old MacDonald, Mr Martin set up an obstacle course in the year 3 and 4 classroom and Miss Simpson organised some team games.
We finished the morning with a whole school work out with Joe Wicks and Pudsy.
We hope that your enjoy looking at the photographs of all the fun we had. Thank you for the donations we received which at first count totaled approximately £100