Our class teacher is called Miss L Johnson and our teaching assistant is called Mrs N Jackson.
We look forward to sharing our exciting news with you about all the fantastic things that happen in our class.
Please feel free to leave us a message on our guestbook at the bottom of our page.
Here are a few things you might like to know about our class:
Timetable - KS1 Autumn Term Timetable
PE is on a Wednesday, so please ensure your child comes to school wearing their PE kit. Remove all jewellery before PE lessons. Each child is expected to have a PE kit in line with the school uniform policy.

Homework is handed out on a Friday and returned the following Wednesday.

Weekly spellings tested on a Friday.
Homework
Daily reading - It is important that your child reads aloud every day and we encourage you to share discussions about the child's reading book to improve comprehension skills.

Daily Number Bonds - It is important that your child has a good recall of number facts in order to support their calculation skills. Please can you ensure your child practices their current set of number bonds each day.

Each week, your child will have a list of 10 spellings to practice and a Maths activity to complete. This needs to be returned by Wednesday.

Sometimes our homework will be linked to our topic, such as a timeline, family tree, etc. These tasks will be sent home instead of the weekly Maths tasks.

Curriculum Information
Maths - Our current focus is Addition and Subtraction
Topic - Our Topic this half term is 'We are the United Kingdom'.
Science - Our Science topic this half term is 'Seasonal Changes: Autumn and Winter'.'
RE - Our RE unit this half term is 'Incarnation: Why does Christmas matter to Christians?'
Maths Yearly Overviews
Year 1 and 2 Maths Yearly Overview
Two-Year Topic Overview
Year 1 and 2 Topic Map (Currently Cycle A)
Phonics
Common Exception Words
Phonics Practice
Can you read all of these words?
Be careful, some are alien words (nonsense words).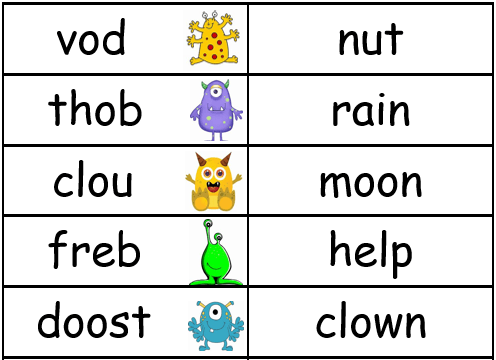 Rudolph the Red-Nosed Reindeer
Over the last two weeks, we have been creating our own leaf sculptures. We learnt how to roll out and shape clay and use different instruments to create different patterns within our leaf designs. Once our clay sculptures were dry, we used acyrlic paints to paint them in our chosen colours. We will be putting a little tealight in the middle to turn them into candle holders.
Wonderful Weather Forecasts
In Science last week, we were learning about different types of weather and how the weather changes from Summer into Autumn. We became weather experts for the afternoon and created our own weather forecasts for the UK. We stood at the front of the class to perform our weather forecasts in pairs. Miss Johnson was blown away with how confident we all were! We also remembered the different countries that make up the United Kingdom, connecting our Science to our Topic work.
In Art this week, we have explored different forms of sculpture. We learnt that sculpture is a form of art and it is 3D, so it isn't flat like drawings and paintings. We focused on an artist, called Andy Goldsworthy, who likes to create pieces of land art. Land art is art that is a part of the landscape, made using natural materials, and is left to disappear naturally. After collecting lots of natural objects from our playground and around the village, we created our own pieces of land art. We hope you like our masterpieces.
This week in Topic, we learnt about the Queen and why she is important to the United Kingdom. We learnt about her 6 royal residences around the UK. We were amazed at how grand they were. Did you know Buckingham palace has 775 rooms? After exploring pictures of the residences, we used Google Maps to locate where they all are in the United Kingdom. We worked well together in our teams and we successfully placed all 6 residences in the correct place on our maps.
In Art this week, we were thinking about the colours of Autumn and discussing how leaves change colour during the Autumn season. We used our knowledge of Autumn colours, to create a leaf collage using tissue paper to create our own Autumn leaves. We learnt that collage is a piece of art which is created by sticking different materials together to create a layered effect.
This term in PE Year 1 are developing bat and ball skills. Today, we have been learning how to hold and use a tennis racquet, how to control a racquet and bean bag when moving in different ways and how to aim when we are batting something.
The focus of our Art work this half term is Nature. Today, we learnt about what nature is and identified lots of objects that are part of nature. We also learnt about symmetry and how some objects in nature can be symmetrical. We used this to create some mirror image observational drawings of natural objects. We had to concentrate on getting the right shapes and lines to make it look as close to the object as we could.
Our new Topic is all about the United Kingdom. To start our topic, we looked at a globe and discussed the shape and features of our planet. We then focused on the seven continents and 5 oceans, naming and identifying them on a world map. We learnt two catchy songs to help us remember their names. Take a look below. We enjoyed using the atlas independently to label our own world map.
AUTUMN TERM 1
We have been showing off our creative skills for our termly art morning, learning all about Oscar-Claude Monet and his impressionist artwork. We were amazed at the colours he used in his paintings and how beautiful his gardens were. We then used Monet's style to create our own version of his painting 'The Water Lily Pond'. We used our fingerprints and an array of colours to create an impressionist painting of his gardens, crafting the iconic bridge using masking tape.
Year 1 have been thoroughly enjoying their time down in Forest School on a Monday afternoon with Mrs Ellis. They have explored nature and wildlife, climbed trees, made dens, played in the mud kitchen and even set fire to a Tudor House to link to our Great Fire of London topic. A massive thank you to Mrs Ellis for taking the time to take us to Forest School each week.
Sketching St. Paul's Cathedral
We developed our ideas about St. Paul's Cathedral using drawing, imagination and communication. We observed paintings and drawings of the old cathedral before using our skills of line, shape and pattern to sketch our interpretation of St. Paul's Cathedral before the fire burnt it down.
Our Great Fire of London Artwork
Over the last few weeks, we have been learning new drawing and painting skills in our Art lessons. We have learnt about primary and secondary colours and how we mixed red and yellow to create orange. We have also been investigating how to create different lines and shapes using a variety of art materials, such as oil pastels, wax crayons, felt tip pens, etc. We have been focusing on the lines and shapes that flames make and how to draw the shapes of houses from 1666. We have also enjoyed learning new art vocabulary and their definitions. We have learnt words like hue, tone, shade, tint and texture. We then used all of our new skills to create a scene from the Great Fire of London. Take a look at our masterpieces above.
Over the last few weeks, we have been working on Place Value in Maths. The Year 1s have been focusing on the place value of numbers within 10 and the Year 2s have been focusing on numbers within 100. The children have been representing numbers using a variety of resources and comparing and ordering numbers using inequality signs and on a number line.
As a hook to our new topic on the Great Fire of London and for our new English unit on Instruction writing, we followed a recipe to bake our own bread rolls. We had to listen carefully to instructions in order to bake safely and hygienically. We collected vocabulary associated with recipes and instructions, such as adverbs of time and imperative verbs. We also used our senses to describe the bread rolls at each stage of the recipe. Whilst we waited for our turn to become a baker, we used our play-doh to experimented making different shaped bread rolls. We had lots of fun trying to copy the images. The plait was extremely challenging! Our classroom smelt like a bakery all day.
As an introduction to our new topic on the Great Fire of London, the fabulous Mr Cadle, aka 'The History Man' visited us in school to bring our topic to life. He came dressed as a typical man from the 17th Century and he brought an array of artefacts and objects with him to show us what life was like in 1666 and how the fire started, spread and was finally extinguished. He is incredibly knowledgeable and it was a fantastic day for all. Mrs Jackson even got to ignite some gunpowder on our playground to show us how they used it to blow up the houses to stop the fire spreading. Watch the exciting video below.
We would like to say a massive thank you to Mr Cadle for sharing all of his knowledge and artefacts with us.
Comments (8)
Show Comments
Mrs Roberts
(a couple of months ago)
Hi all yr 1 and yr 2. As you all know I love nature and wildlife so I was excited to have a look at your nature pictures. They are fabulous and so creative and it certainly looks like you've enjoyed making them. Well done everyone. I also loved your Monet pictures and I'm learning the continents song!
Miss Johnson
(a couple of months ago)
Hello Ariadne, I am so pleased that you enjoyed our history day with Mr Cadle. We all had a memorable day and we learnt so much. I am looking forward to exploring our topic on the UK further. I have been singing the continents song over and over at home, even Bobby and Bella will know the continents.
Ariadne
(a couple of months ago)
To Miss Johnson, I really liked when Mr Cadle came in to teach us lots about the Great Fire of London. I know that it started in a bakery and it spread really fast because of the wind and the fact that the houses were made of wood and hay. I am enjoying our topic lessons and I can't wait to learn even more about the UK. I really like the continents song and I learnt all my continents from the biggest to the smallest.
Miss Johnson
(a couple of months ago)
Thank you for taking the time to comment on our class page. I am glad that you are finding our class page useful. The children have worked incredibly hard this half term and it's wonderful to show off their hard work on our website. I loved Georgia's Great Fire of London picture. It was very creative. I hope you are all having a wonderful half term break.
Sam P
(less than a year ago)
Thank you for the lovely photos and information on this page. Georgia has loved the great fire of London topic and was inspired to create her own picture at home this morning using beautiful red autumnal leaves as the fire.
Mrs Abbott
(less than a year ago)
I just want to thank every member of Year 1/2 for all their hard work and dedication to their learning this half term. I am so proud of each and every one of you for the commitment you have shown. Have a happy, healthy half term and I look forward to sharing your learning journey with you after the holidays. I cannot wait to hear all the wonderful things you will be learning all about the UK.
OLIVER
(less than a year ago)
HI
Miss Morris
(less than a year ago)
Wow year 1 and 2, I am so impressed with your pictures of the Great Fire of London. I love teaching art as you know and I can see all the new skills you have learnt over the past few weeks.