Spring Term
A Special Visitor
We were delighted to welcome Mason (Year 4) into our class this morning to teach us all about dinosaurs. Those who know Mason will know that he is a dinosaur expert! He had kindly put together a powerpoint to share with us about many different types of dinosaurs. We were all very impressed with how much knowledge he has about dinosaurs and we have to say a MASSIVE thank you to Mason for taking the time to create his presentation and bravely standing up at the front of our class to share all his facts about dinosaurs! Mason, you did an amazing job and Miss Johnson and the rest of the staff are incredibly proud of you!
(10/01/2020)
Dinosaur Skeletons
In Art this half term, we will be using a variety of different media to create a piece of artwork. This week, we were using pasta. We observed different images of dinosaur skeletons closely, such as real-life exhibits, sketches and computer-generated images. We then used a variety of pasta shapes to recreate a dinosaur skeleton, thinking carefully which shapes matched the dinosaur bones. Take a look at our masterpieces in production.
(10/01/2020)
Autumn Term
Reindeer Art
While the Year 1s were at forest school today, the Year 2s created colourful reindeer portraits using a step-by-step guide. We followed the instructions carefully, using pencil to draw an initial outline, and then we used oil pastels to colour in our reindeers, making them nice and bright.
Puppet Makers
As part of our English work, we have been exploring the story of Pinocchio and we have enjoyed looking at lots of different types of puppets. Today, we designed our own hand puppets and used origami techniques to turn our design into a product that is appealing for our target audience. We had great fun making them and worked really hard to make them as neat and detailed as we could. Enjoy looking at our finished products!
Maths
Year 2 have been working incredibly hard on their addition and subtraction unit in Maths. We have been learning how to exchange 10 ones into a ten in addition that bridges 10 and we have also been learning to exchange a ten for 10 ones when you don't have enough ones to subtract. Mrs Abbott was very impressed at our neat number line work this week! Miss Johnson is very proud of the resilence and perservance every Year 2 has shown over the last 2 weeks with this tricky Maths!
Toys Timeline
We hopped into Doctor Who's tardis and travelled through time to discover popular toys throughout the last 100 years. We watched tv commericals and short videos to discover popular toys that our grandparents and parents may have enjoyed playing with. We were amazed to see lots of toys that we still play with today! We created timelines to show the chronological order and used lots of time vocabulary, such as past/present, modern/old, then/now. Miss Johnson was very impressed with how well we worked as a team to order the toys (and there were a lot to order!). Check out some of our timelines below.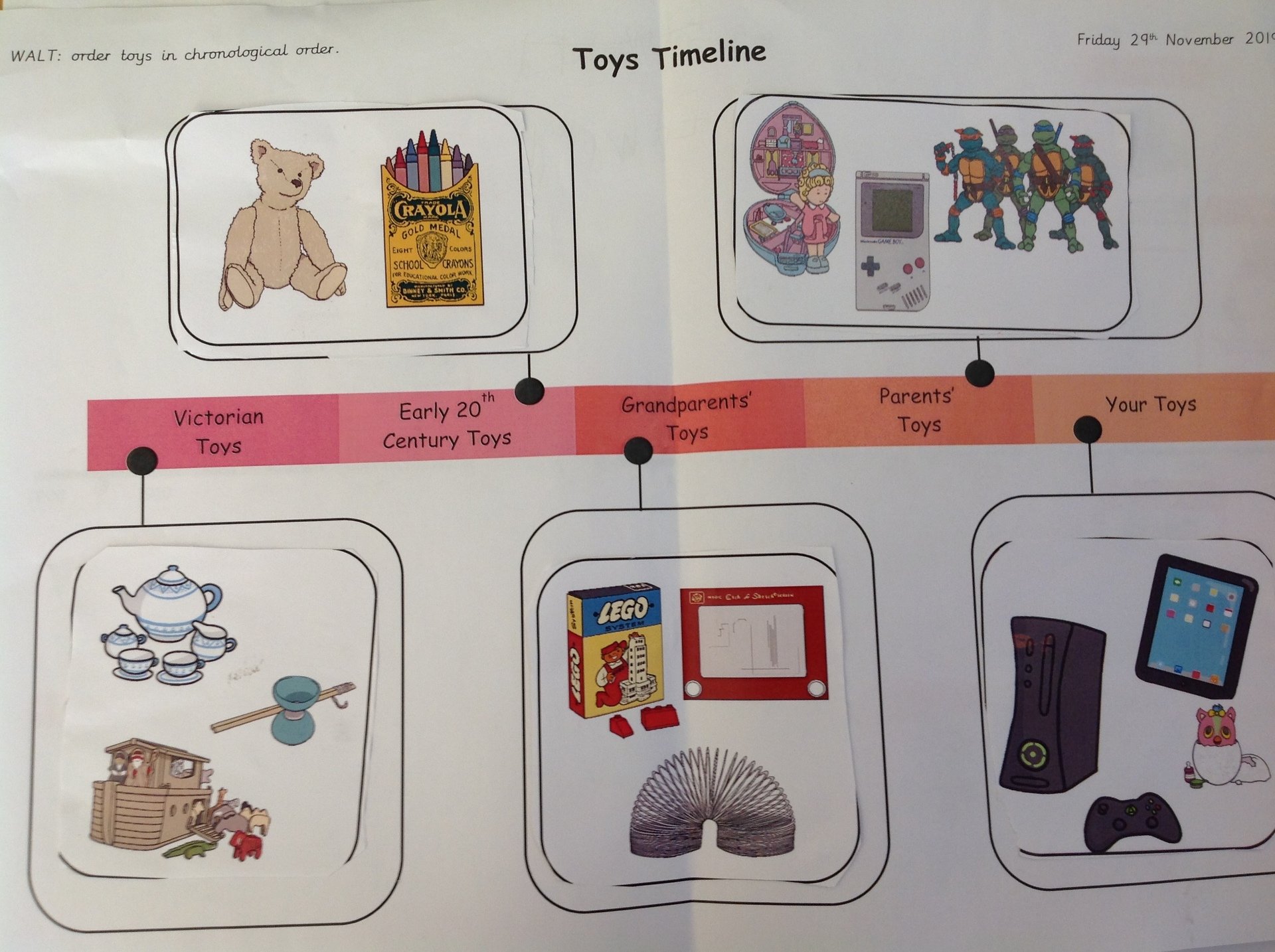 Edward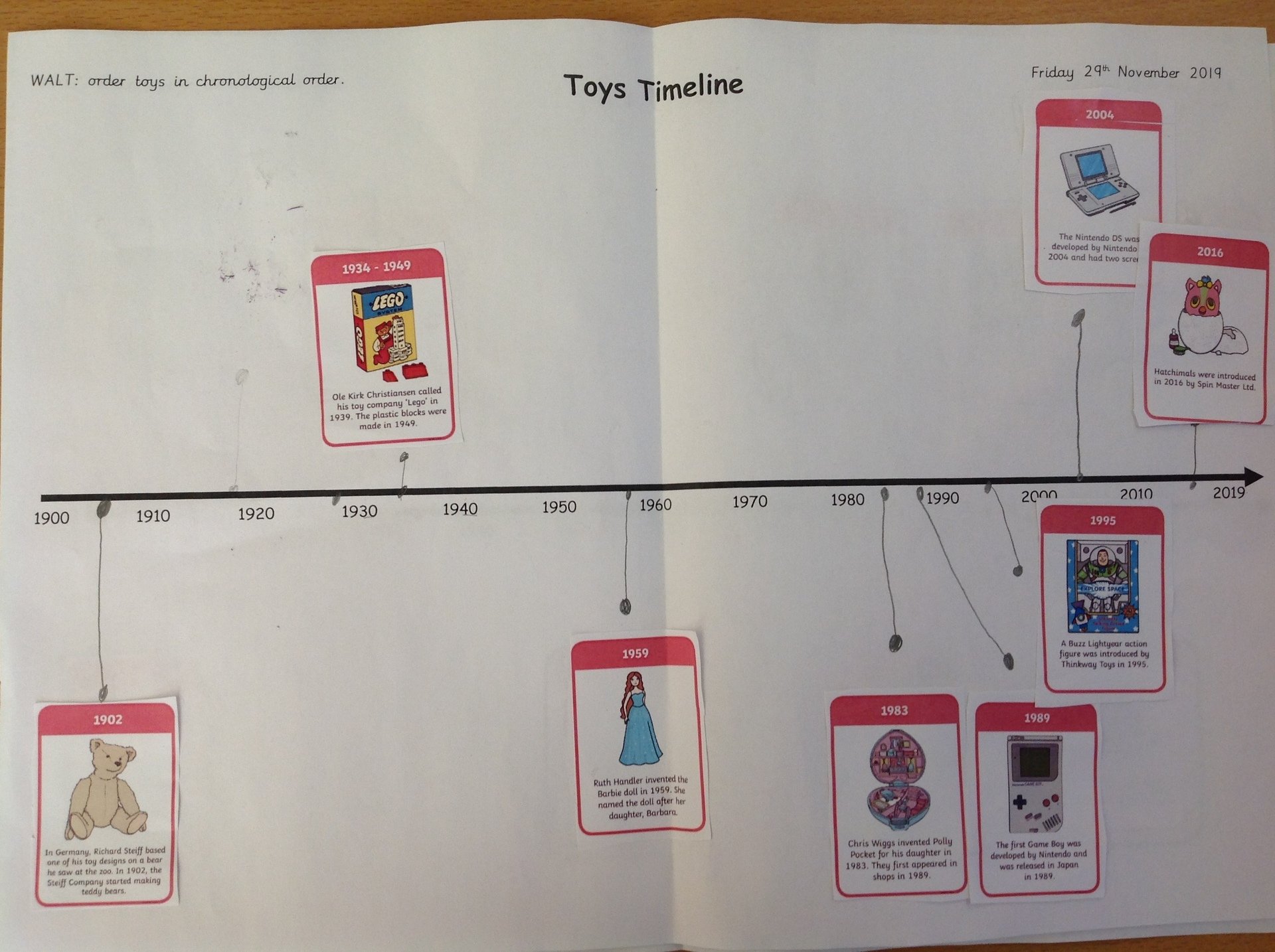 Henry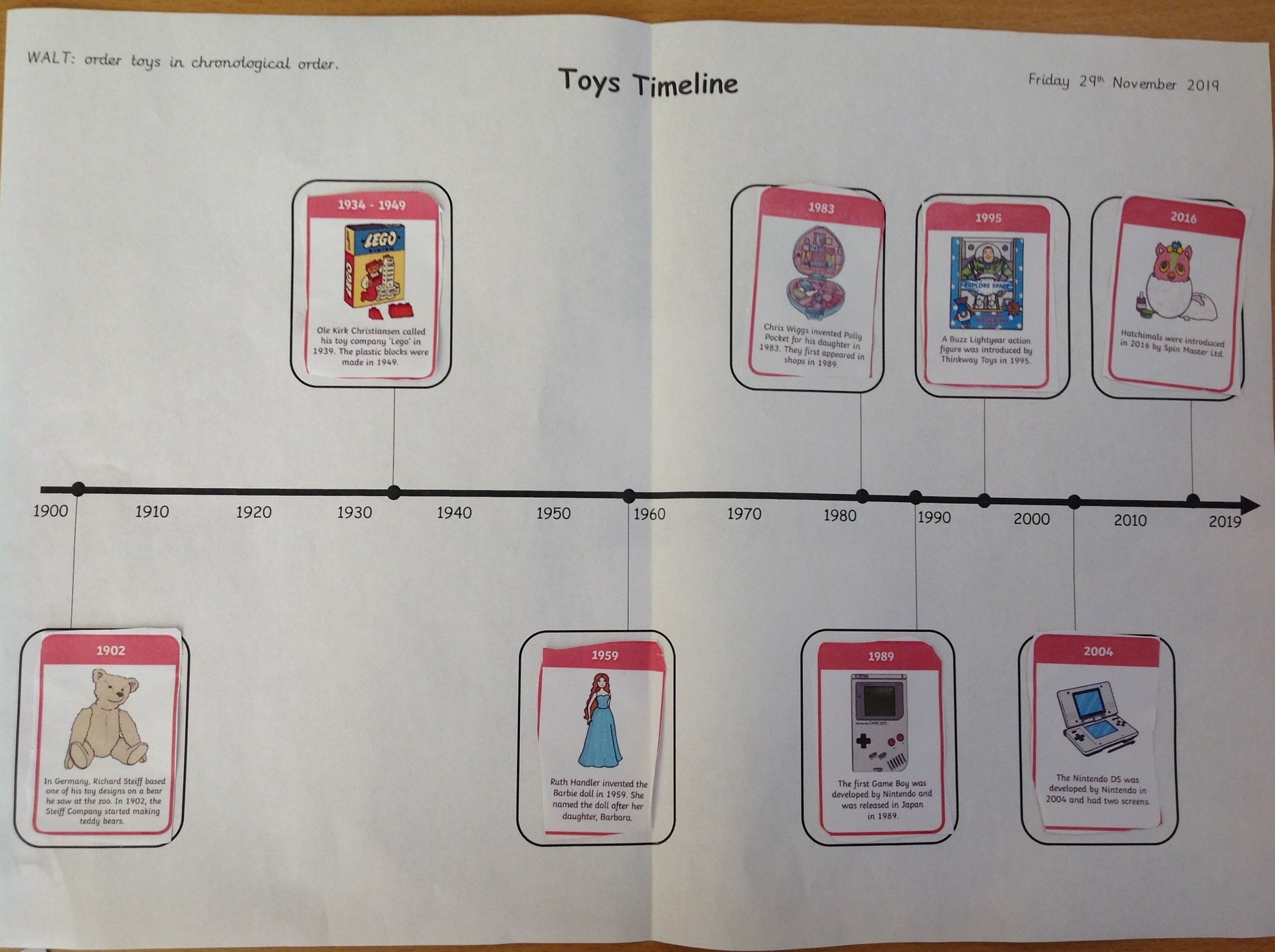 Minnie
Our Toys Museum
As part of our ongoing topic, we bought in our favourite toys from home to create our very own toy museum, including some toys from the past. We spent the morning discussing our choices and looking at the materials our toys were made from and how we play with them. We got to draw and label our own toy and write a short description of it. Here are a few examples: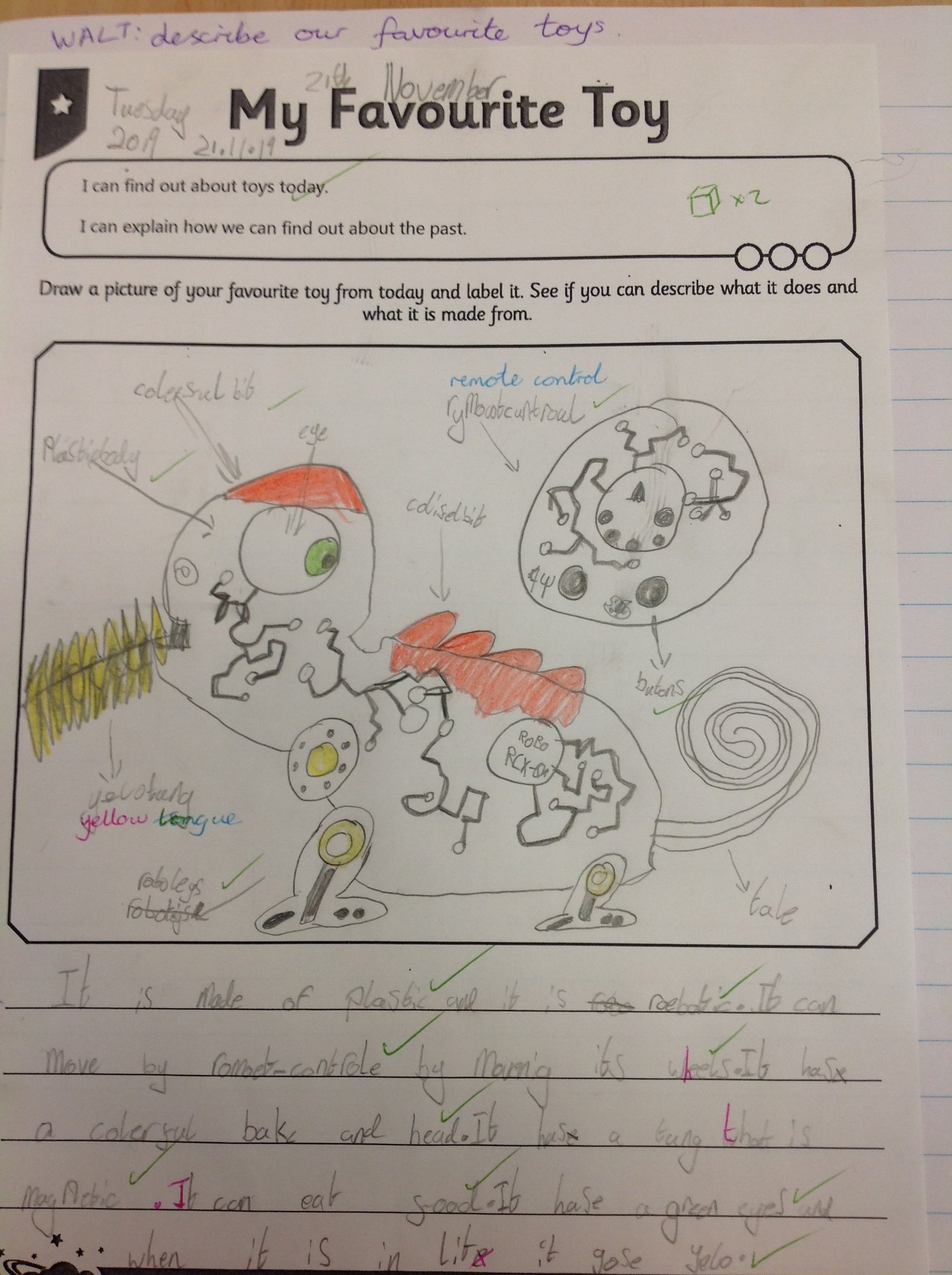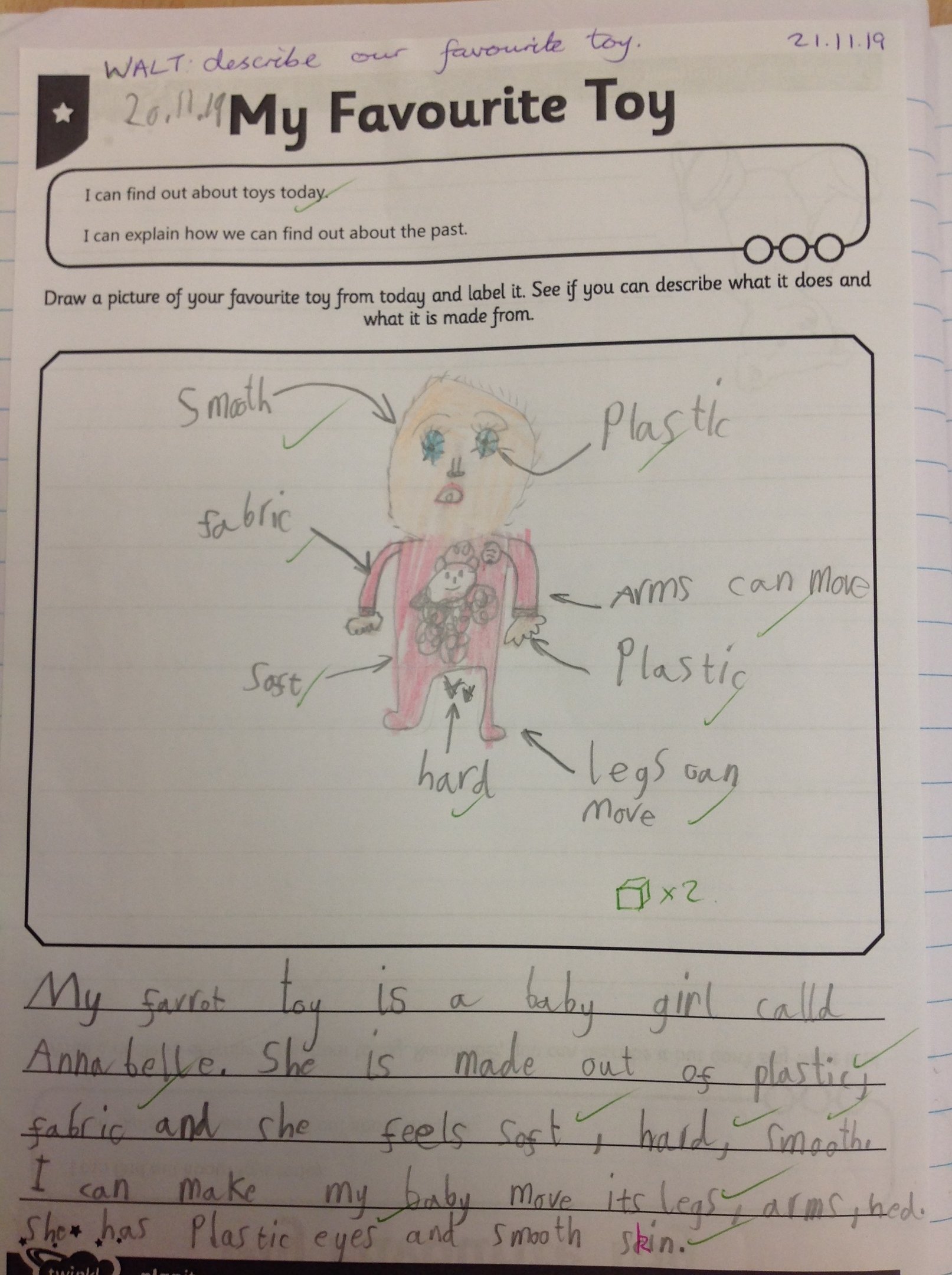 Jacob Zoe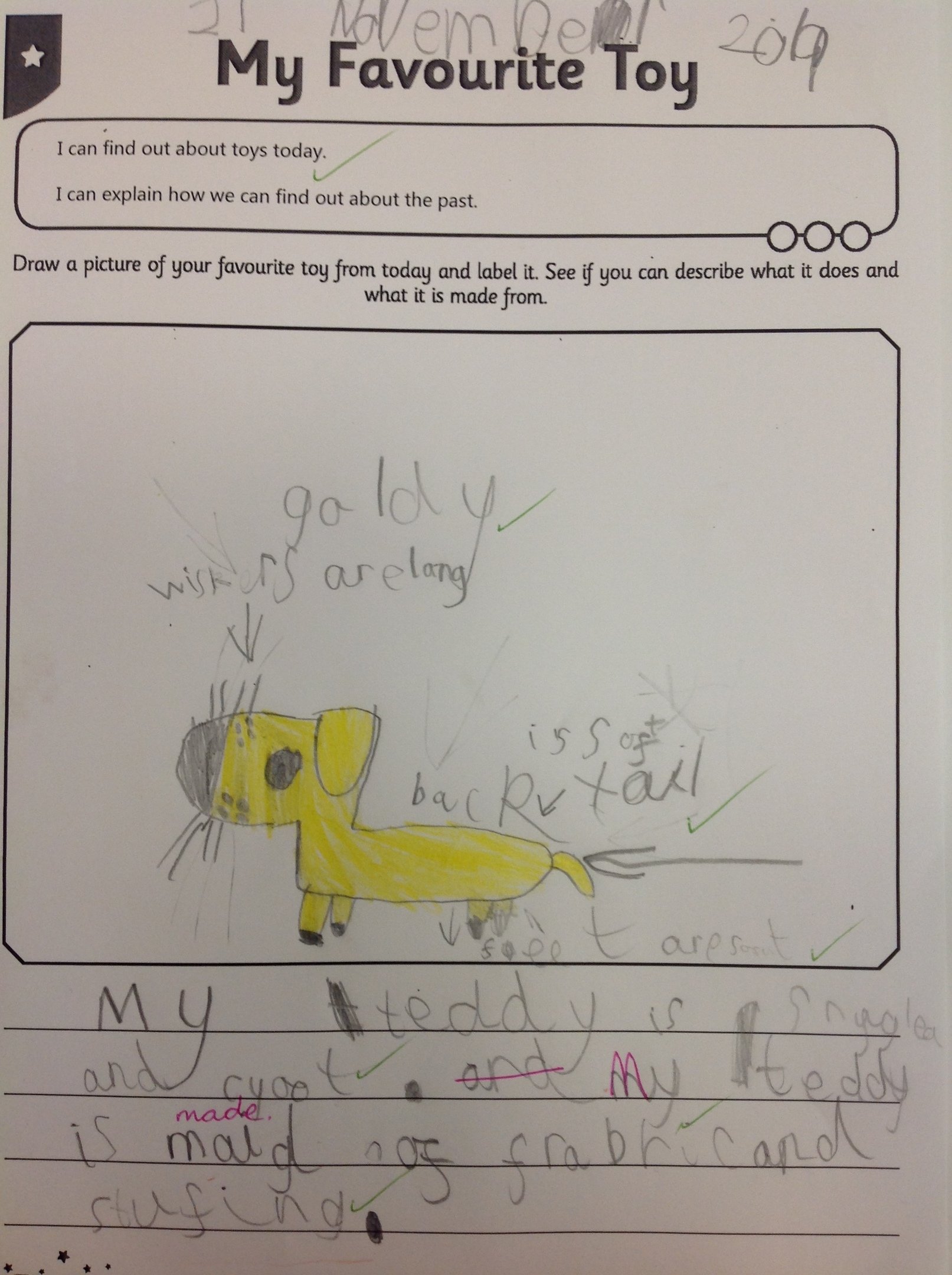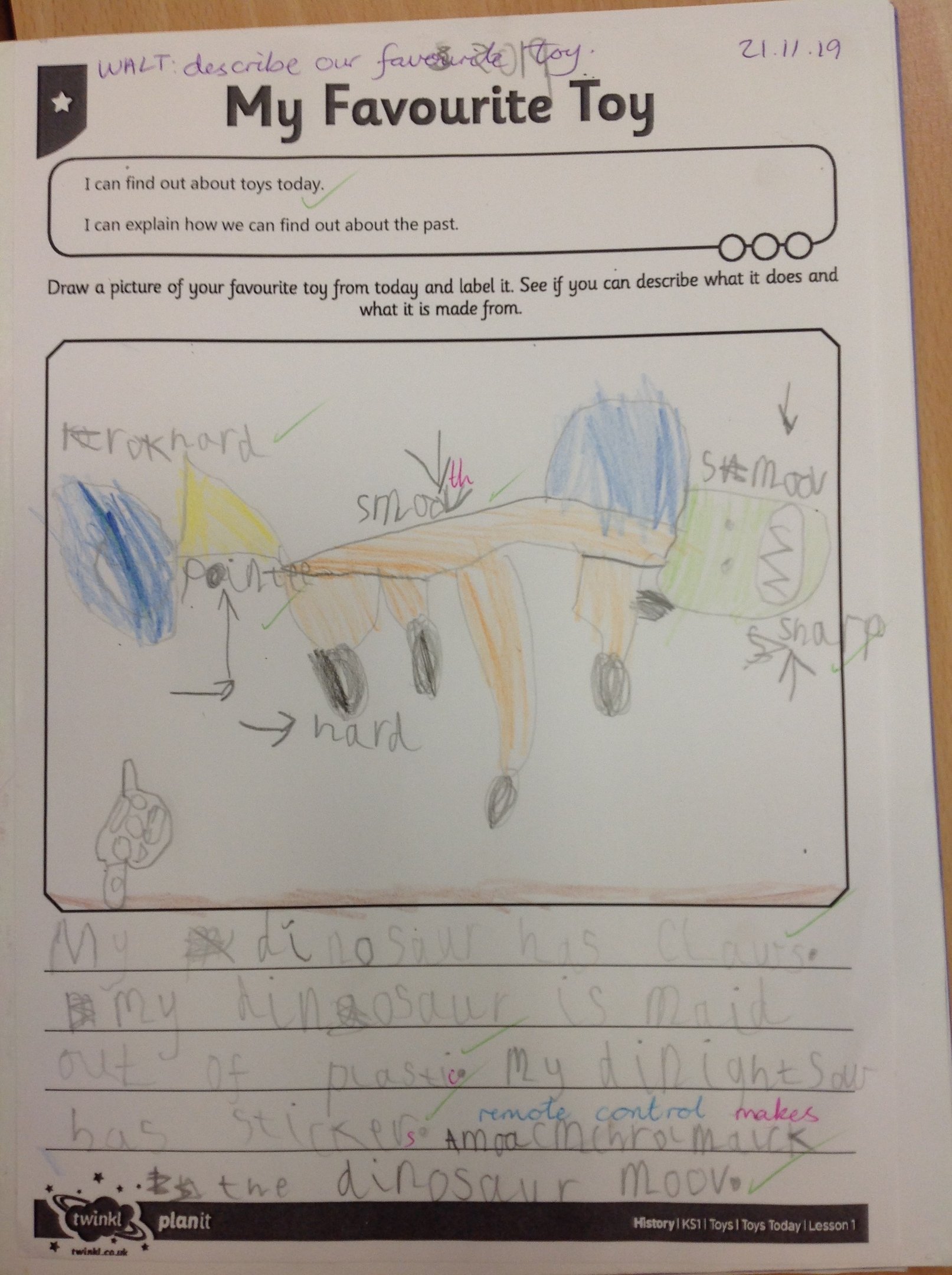 Alexa Ubaid
Toys from the Past Workshop
Worcester Museum came into school with a big bag of toys for us to explore! We were able to look at the similarities and differences between toys today and toys in the past, using our knowledge of 'old' and 'new' and our science work on materials. We got to sort the toys according to their materials and we discussed how toys have changed within living memory.
Global Links
At the end of last half term, Hannah Escot came to talk to us from Global Links. Hannah has taught all over the world; so she came to talk to us about the life of children in Africa, India and South America. She spoke about real life experiences of children not having flushing toilets, not having a pair of shoes to wear or having to play football with a plastic bag. Hannah showed us how to make toys out of recycled materials and we got to play with some Africa toys. We loved making footballs using newspaper and plastic bags!
Polar Explorer
We were very lucky to have a special vistor, Mr Harvey, to tell us all about his adventures in Antarctica and the Arctic. It was fascinating to hear about life in polar conditions! We were also lucky enough to try on snow boots, goggles, sit in a tent, try an emergency tent and much more. He even took Prince Harry to Antarctica!
What a fantastic experience and thank you, Mr Harvey!
5...4...3...2...1...BLAST OFF!
We had lots of fun designing and making 'posh' rockets. We used lots of junk modelling materials to build our rockets and we added lots of detail and decoration to make them 'posh'. We also got to launch Mr Sheringham's rocket into the air. We enjoyed learning about Neil Armstrong and the first moon landing.