Arts Mark

What is the Arts Mark?
The Artsmark Award is the only creative quality standard for schools and education settings, accredited by Arts Council England. They will support us to develop and celebrate our commitment to arts and cultural education.
We want to do this award to help us give our curriculum breadth and balance and to immerse our children with opportunities for cultural capital.
Why Artsmark?
Build young people's confidence, character and resilience through arts and cultural education
Use Artsmark's clear and flexible framework to embed creativity across our whole curriculum and use it to address school improvement priorities
Celebrate our long-term commitment to offer a broad and balanced curriculum, that enables children to make connections across their learning and develop their vocabulary.
Our Artsmark Journey
We applied for the Artsmark accreditation in September 2020. Mrs Abbott attended the Development Day (October 2020) and we are just about to submit our Statement of Commitment, which will outline our desired outcomes and plan for what we wish to implement during this time.
Below is a diagram to demonstrate the journey we will take to receive our mark: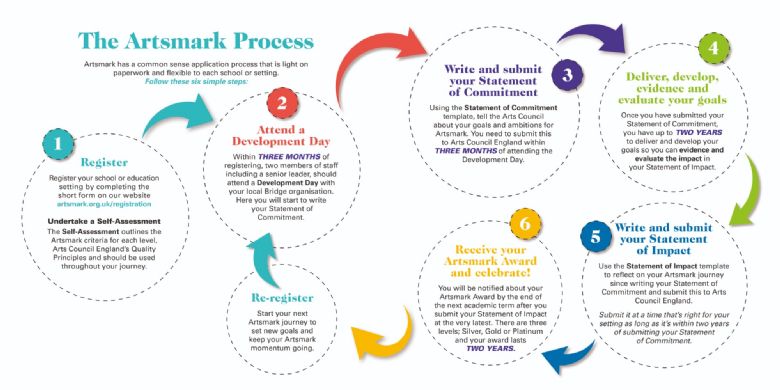 Inital Artsmark Questionnare
Our Artsmark Journey began with a questionnaire being sent out to parents and children. The results will then be analysed in order for us to audit our current provision, and to see what else we can do to cater for a diverse and exciting arts curriculum at Crowle First School.
If you have yet to answer the questions, the link is as follows:
https://www.surveymonkey.co.uk/r/JSKFSJZ
Thank you for any responses received.
Our Artsmark Experiences
We wanted to take this opportunity to immerse our children in a wide range of art activities, to inspire them going forward. Just some of the activities we offered our children throughout this journey was:
C. Brett came in to school to introduce us to cello playing

Severn Arts – Introduction to brass instruments

Indian Dance Workshop

Art work submitted to Worcester Cathedral

Dance choreographer in to work with all children for half a term

School elephant submitted to St Richards Hospice "Big Elephant" hunt around Worcester

Y3/4 singing at Three Counties Showground

Royal jubilee performance at the village hall

Recorded Nativity performance sent to parents

Maypole Dancing

Virtual pantomime experience for all children

KS1 and KS2 trips to CBSO, Birmingham

Joseph and His Amazing Technicolour Dreamcoat performance (Y2 – Y4) with local arts company

"Visual Arts Workshop" with Severn Arts (Y3/4)

Whole school puppet show performance

Malvern Link theatre opportunities shared with all children

Poet (Matt Black) to work with Y3/4

Musical Theatre after school club offered (Summer term)

Weekly recorder lessons

(Y2-Y4)

Mr. Halliday instrument introduction sessions (weekly) in Spring term (clarinet, flute etc)

Y1/2 – Ukulele lessons

Y3/4 – Clarinet lessons

Circus skills after school club (Spring term)

Weekly ukulele lessons offered (Mr. Halliday)

Crowle Christmas Tree Competition (winners!)
Outcome - Gold Award, June 2022
Pupils and staff at Crowle CE First School are celebrating after receiving a prestigious Artsmark Award in a momentous year for the programme as it celebrates 20 years of arts, culture and creativity in schools.
The Artsmark Award is the only creative quality standard for schools, accredited by Arts Council England. It supports schools to develop and celebrate arts and cultural education, putting creativity and wellbeing at the heart of the curriculum. Artsmark ensures every young person can be creative and access a diverse, high-quality cultural education.
In order to achieve their Artsmark Award, Crowle CE First School had to develop their arts and culture provision to embed a broad and ambitious curriculum. This was achieved by creating an overall plan that was committed to and delivered across the whole school.
The Artsmark assessor commended Crowle CE First School on: "Crowle CE First School have embraced the opportunities offered by your Artsmark journey…They have developed their art curriculum and built on the potential of the Arts to deliver pupil outcomes and increase the range and quality of arts that they offer to the children."