Arts Mark
What is the Arts Mark?
The Artsmark Award is the only creative quality standard for schools and education settings, accredited by Arts Council England. They will support us to develop and celebrate our commitment to arts and cultural education.
We want to do this award to help us give our curriculum breadth and balance and to immerse our children with opportunities for cultural capital.
Why Artsmark?
Build young people's confidence, character and resilience through arts and cultural education

Use Artsmark's clear and flexible framework to embed creativity across our whole curriculum and use it to address school improvement priorities

Celebrate our long-term commitment to offer a broad and balanced curriculum, that enables children to make connections across their learning and develop their vocabulary.
Our Artsmark Journey
We applied for the Artsmark accreditation in September 2020. Mrs Abbott attended the Development Day (October 2020) and we are just about to submit our Statement of Commitment, which will outline our desired outcomes and plan for what we wish to implement during this time.
Below is a diagram to demonstrate the journey we will take to receive our mark:
Inital Artsmark Questionnare
Our Artsmark Journey began with a questionnaire being sent out to parents and children. The results will then be analysed in order for us to audit our current provision, and to see what else we can do to cater for a diverse and exciting arts curriculum at Crowle First School.
If you have yet to answer the questions, the link is as follows:
https://www.surveymonkey.co.uk/r/JSKFSJZ
Thank you for any responses received.
Our Artsmark Experiences
We wanted to take this opportunity to immerse our children in a wide range of art activities, to inspire them going forward. Just some of the activities we offered our children throughout this journey was:
C. Brett came in to school to introduce us to cello playing

Severn Arts – Introduction to brass instruments

Indian Dance Workshop

Art work submitted to Worcester Cathedral

Dance choreographer in to work with all children for half a term

School elephant submitted to St Richards Hospice "Big Elephant" hunt around Worcester

Y3/4 singing at Three Counties Showground

Royal jubilee performance at the village hall

Recorded Nativity performance sent to parents

Maypole Dancing

Virtual pantomime experience for all children

KS1 and KS2 trips to CBSO, Birmingham

Joseph and His Amazing Technicolour Dreamcoat performance (Y2 – Y4) with local arts company

"Visual Arts Workshop" with Severn Arts (Y3/4)

Whole school puppet show performance

Malvern Link theatre opportunities shared with all children

Poet (Matt Black) to work with Y3/4

Musical Theatre after school club offered (Summer term)

Weekly recorder lessons

(Y2-Y4)

Mr. Halliday instrument introduction sessions (weekly) in Spring term (clarinet, flute etc)

Y1/2 – Ukulele lessons

Y3/4 – Clarinet lessons

Circus skills after school club (Spring term)

Weekly ukulele lessons offered (Mr. Halliday)

Crowle Christmas Tree Competition (winners!)
Outcome - Gold Award, June 2022
Pupils and staff at Crowle CE First School are celebrating after receiving a prestigious Artsmark Award in a momentous year for the programme as it celebrates 20 years of arts, culture and creativity in schools.
The Artsmark Award is the only creative quality standard for schools, accredited by Arts Council England. It supports schools to develop and celebrate arts and cultural education, putting creativity and wellbeing at the heart of the curriculum. Artsmark ensures every young person can be creative and access a diverse, high-quality cultural education.
In order to achieve their Artsmark Award, Crowle CE First School had to develop their arts and culture provision to embed a broad and ambitious curriculum. This was achieved by creating an overall plan that was committed to and delivered across the whole school.
The Artsmark assessor commended Crowle CE First School on: "Crowle CE First School have embraced the opportunities offered by your Artsmark journey…They have developed their art curriculum and built on the potential of the Arts to deliver pupil outcomes and increase the range and quality of arts that they offer to the children."
Further examples of the arts at Crowle First School
Puppet Theatre Production - The Selfish Giant
The children experienced a wonderful live performance of "The Selfish Giant" by the Sea Legs Puppet Theatre company. The children were enthralled by the performance, and enjoyed having the opportunity to ask questions of the puppeteer. What a wonderful opportunity to watch a new genre of performance!
Visual Arts Workshop
Y3/4 had the opportunity to work on a collaborative piece of community art, with a local artist Sarah Brown. Children began by looking at how Sarah creates art work, using items that would not necessarily be thought of as art. Then in response to the upcoming Queen's jubilee the children have created community discs, representing who makes up their community - that will be displayed for a local singing event in Worcester.
Easter Workshop - Musical Theatre Experiences
"All Sorts of Performing Arts" are a local arts group, that we have worked on throughout this past year to put on a production of Joseph, and shall be working with them again to support their production of Oliver! They have sent us the following information regarding an Easter workshop they are putting on, should your child be interested. If you are interested please contact Stuart on the deatils below.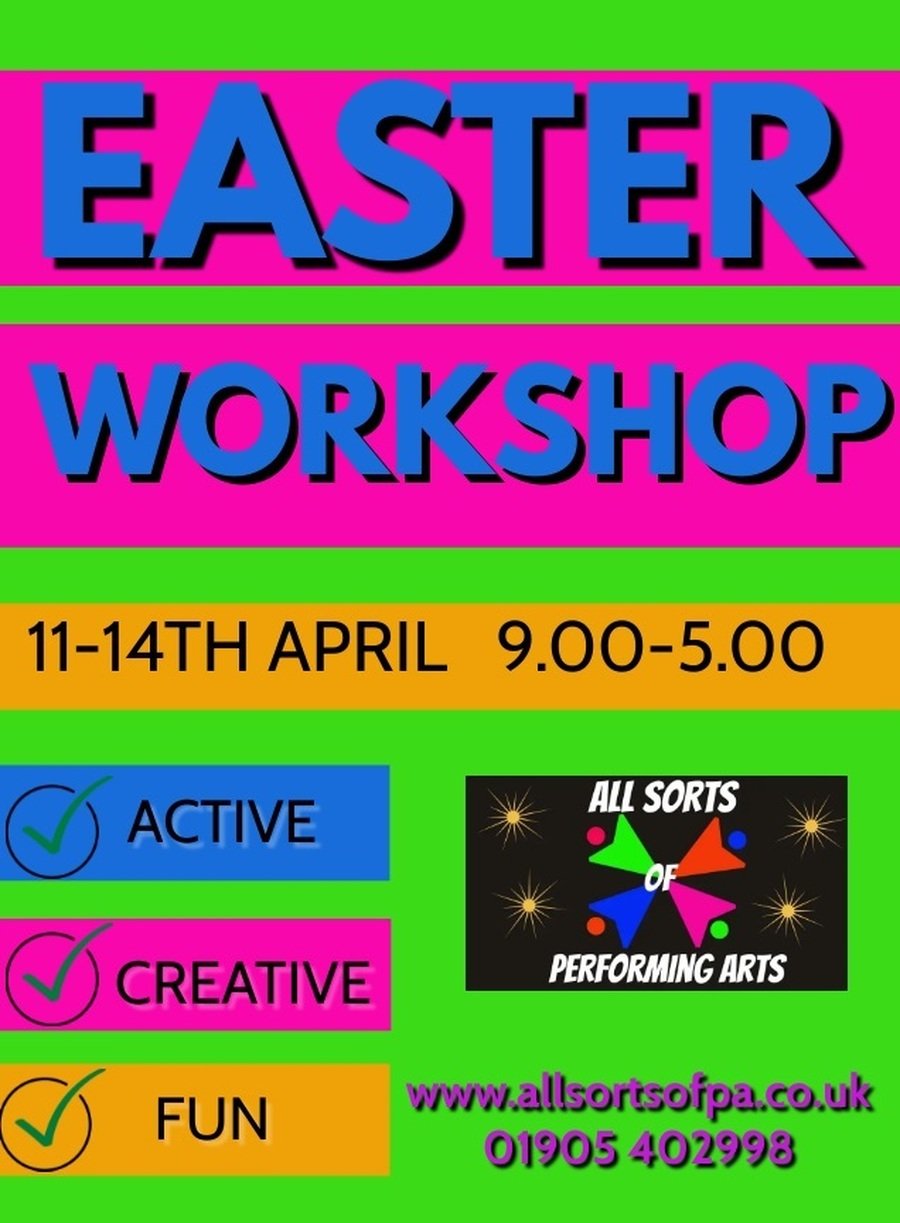 Y1/2 Picasso Study
Y1/2 spent a day learning all about the artist Pablo Picasso. As part of their study, they looked at his self portraits and recognised how abstract they were. The children then created their own self portraits, in the style of Pablo Picasso's work.
Live Performance
Mr Halliday volunteered to come in to school to demonstrate a range of instruments to the children, should they wish to go and watch live musical performance. Today he was demonstrating flutes. The children were enthralled with the performance, with one child even telling me they had been "inspired" to learn the flute themselves!
Y3/4 Lowry study
Y3/4 have been investigating the artist Laurence Lowry. They began by researching who he was, when and where he lived and what he used as his inspiration. They inspected prints of his work and discussed them based on what they had learnt. The children then created their own Lowry-inspired art work.
Y1/2 Dinosaur Habitats
As part of their Dinosaur topic, Y1/2 have been recycling materials to create a Dinosaur habitat. They have been creating their lands using a range of resources. We are so impressed with their knowledge, skills and imagination!
KS1 CBSO Concert - Race Through Space
Y1/2 enjoyed their trip to the CBSO Centre, Birmingham to hear a live musical performance. The children loved hearing the music being played, and having the opportunity to join in with the fun!
Malvern Theatre Opportunities
During half term, Malvern Theatres are putting on a range of exciting creative activities for children and families alike. Why not go along to try something new? Let us know what you have participated in!
KS2 CBSO at Symphony Hall, Birmingham
Y3/4 had a wonderful morning of live performance by the Birmingham Symphony Orchestra. The children were invited to listen to different music being played, and use their imagination to pretend they were in Africa (Out of Africa) or on the beach with Benjamin Britton etc. It was so wonderful to be able to experience live performance again.
Live Performance - Jack and the Beanstalk Panto
As we were unable to attend a real panto this year, all the children experienced a live feed from Jack and the Beanstalk. The children really enjoyed shouting out and joining in, and watching a professional performance (albeit online). A true Christmas treat for us all.
Nativity Performance
This year we were so upset that we were unable to perform our whole school Nativity performance in front of a live audience. However, the children and staff still worked really hard and were able to send out a recorded version for all parents/grandparents to share in at home. The children demonstrated their confidence to perform in front of their peers, learn their lines, play their instruments and sing their songs. Well done Crowle!
Crowle Christmas Tree Competition
Each year Crowle Church hold a Christmas tree competition. This year the theme is "Recycling." Working alongside the Friends of Crowle, we created a Christmas tree made out of newspaper. The children then used recycled materials to make the christmas decorations for the tree.
"Take Part" - Malvern Arts and Theatres
As part of our Artsmark journey we wish to signpost all our families to a wide range of art experiences in the local area. Please find below the Malvern "Take Part" brochure, that offers a vast array of experiences for all ages. Please do let us know of any your participate in!
Dance Training
Throughout the year all children will be having Gemma (Dance in Motion) to teach them professional dance skills, as part of their PE lessons. Children will be able to participate in different genres of dance (street, jazz, ballet etc) and will perform this to their peers. The children are really enjoying learning news skills!
Joseph and His Amazing Technicolour Dreamcoat
Children from Y2-Y4 worked with a local performing arts company "All Sorts of Performing Arts" to put on a production of Joseph and His Amazing Technicolour Dreamcoat. The children worked with a professional director and rehearsed both in school, and at the studio. All their hard work culminated in a singing and dancing sensation!
Y1/2 - Sewing
As part of their "Toys" topic, Y1/2 have been studying puppets. They have been learning sewing vocab - run stitch, cross stitch etc and had their first ever go at sewing. The children were so proud of their attempts!
Y3/4 - Clarinet lessons
We are so lucky because "Friends of Crowle" pay for every child to receive music tuition. This year Y3/4 are learning the clarinet. We have a teacher from Severn Arts who comes in every week to teach us how to play these wonderful instruments.
Y1/2 - Finger Puppets
This half term Y1/2's topic is "Toys." In English they have been writing all about the puppet Pinocchio. With this in mind, through Art and DT children have been designing and creating their own finger puppets.
Y3/4 - Leonardo Di Vinci study
This half term Y3/4 are studying Leonardo Di Vinci. They began by learning about who he is, where and when he was born and what Renaissance period actually means. They are then going on to study his pieces of art work, and the symbolism in his work.
Y1/2 Incarnation Story Cubes
Y1/2 looked at the net of a shape. They then drew the six main aspects of the Incarnation story, to make a story cube. They could use this cube to retell the whole story. However, they left the lid of the cube unstuck in order to write the "hidden message" inside the cube - that Jesus was God on earth.
Reception - Forest School Art
Every week Reception class go to Forest School - where they explore their natural surroundings. This week they have created art work through natural weaving, and also creating hedgehog pictures (using only natural materials). The children enjoyed discussing what they had used, and how they had manipulated the natural resources to create their own art work.
Remembrance Day
Reception and Y1/2 created art work, based on Remembrance Day. They watched a short Cbeebies film about the soldiers and poppies, and were inspired to create this work.
Whole School art - based on our School vision
Our school vision is that everybody is "Caring, Confident and Committed to their learning." As a whole school we created these art works that welcome any visitor in to the school. They each represent a bible story, that underpins our vision.
Live Performance - Cello
Carrie Brett is an ex-pupil of Crowle First School, who now is a professional musician. Carrie came in to school to put on a live performance of the cello for all pupils. It was a beautiful sound, and the children really enjoyed the opportunity to hear a brand new instrument.
Pictures inspired by Joseph Turner
Y1/2 have been linking their work on "Explorers" to Joseph Turner paintings; especially his paintings of shorelines and ships. The children used this inspiration to create the following art work,
Roman Shields
As part of their Romans topic, Year 3/4 are preparing for a battle on our playground! They have been designing and making their own shields for this big event (where they will be learning about the different formations that Romans used to create a Roman Empire.)
Malvern Theatre: "Take Part" Programme
We believe that it is vital for us to signpost families to further Arts events, in our local community. We forwarded information to our families about the Malvern Theatre: "Take Part" Programme, which offers a range of exciting activities for young and old alike!
Further details can be found: "Take Part" Programme 2021
Indian Dance Workshop
The whole school had a fantastic time, learning Indian dance moves, with a local dance teacher. Children were able to listen to bhangra music and also learn some bhangra dance moves. The children all really enjoyed the experience, and had a great workout at the same time!
African Houses
Y1/2 looked at traditional African huts, as part of their Africa topic. They then created their own huts - thinking about using traditional colours and thinking about the materials these homes would be made from.
CBSO Children's Chorus
All children in Y3/4 have been invited to audition for the CBSO Children's Chorus. Through their rehearsals members will develop as musicians and singers, learn important performance skills, and give performances that are of a very high quality. In addition, all members of the choir will have the opportunity to participate in free online music theory lessons, to help them develop their ability to read and understand musical notation and there will be small group singing lessons provided.
If you would like to apply to join please complete the following: https://cbso.co.uk/who-we-are/childrens-chorus/childrens-chorus-application
Y1/2 African Artwork
As part of their Africa topic, the children in Y1/2 looked at paint techniques to create a sunset. Using silhouettes they then created their own safari animals to create their sunset picture.
The children also looked at African fabrics. They discussed the colours that were being used. Children then created their own weaving patterns, in the style of African fabric.
As part of their music lesson, Y1/2 also played the African drums with Mr Hughes and sang traditional African songs.
Introduction to Brass Instruments
Paul from Severn Arts came to work with Y1-Y4 to introduce us all to brass instruments. The children really enjoyed the session, especially the live performance element. They were given the opportunity to play an instrument themselves, as well as listening to different types of music and watching an expert in his own field. Thank you so much to Paul for coming to work with the children at Crowle First School.
Y1/2 - Victorian Day
This half term Y1/2's topic is The Victorians. The children came to school dressed in Victorian clothes, and experienced life in a Victorian school. They role played being Victorian pupils; hand inspections, boys lining up separately to the girls, standing when an adult walks in the room, not being allowed to talk or fidget - it truly bought the learning to life!
Reception - Aliens
As part of their Space topic, Reception class created aliens using air dry clay. They created their creatures, and linked it to their mathematical knowledge of how many legs/eyes, adding one more, longer, shorter etc. Art and maths combined!
Ukulele
Children from Y2 to Y4 really enjoy Ukulele club with Mr Halliday who supports us from Severn Arts. They are building up to playing a piece for the whole school as soon as restrictions allow.
Worcester Big Parade
This year in Worcester we were invited to collaboratively paint and create an elephant to go on show for the whole of Worcester to see. Working with the Friends of Crowle, every child helped to paint the elephant with their handprint. Please let us know when you see our elephant cub around Worcester town centre!
Y1/2 - Science Topic
This half term Y1/2 will be looking at plants in their Science lessons. Using the Ipads, the children independently photographed the flowers on the school grounds. They then used these photos as inspiration for their art work.
Reception - Space Topic
As part of their learning about Space, Reception class have been painting pictures of aliens, using junk modelling to create their own rockets, exploring in the space tent and also making space travel vehicles out of construction.
Y3/4 - Stone Age artwork
This term Y3/4 topic is "Stone Age." The children have been learning about how paintings were drawn on to the caves. They have been learning about Stonehenge and created these art works using chalk and pastels.
Y1/2 - What can you make with a dot?
Using the text "The Dot" by Peter Reynolds, the children discovered how much creativity can come from a single dot on a page.
Reception Class - Making play dough
Reception class created their own lavender play dough. They then used the play dough to make their own designs.
Y1/2 - Art Morning
The children learnt all about Monet, and created their own art work in his style.
Reception - Skeletons
As part of their "All About Me" topic, Reception made skeletons using straws.
Lockdown Learning
Even lockdown did not stop our creative juices flowing! The children worked really hard at home; painting, drawing, story mapping, making greenhouses, creating potions, baking - we were so impressed.
Y1/2 - Winter Scenes
As part of their topic, Y1/2 created these beautiful winter tree scenes using chalk.
Reception - Art Morning
The children explored natural materials, as part of Forest School. They then created their own natural pictures.
Y3/4 - Creating a Shaduf
As part of their Egyptian topic, Y3/4 created a Shaduf (a device used by the ancient Egyptians for lifting water from the Nile onto the river banks)
Reception - Smite Farm
Reception class went on a senses walk around Smite Farm. They felt the textures of nature around them, and enjoyed smelling and seeing all the wonder that surrounded them. They then collected natural objects to create natural art work.
Y1/2 - African Drums
Every week Mr Hughes (music specialist) comes in to work with Y1/2 to play the African drums.
Y3/4 - Roman Day
Year 3/4 became Romans for the day! They dressed up in Roman clothes, acted out battles, created battlements and played Roman games.
Y2 - Y4 Recorder Club
Each week the children work with Mrs Brierley, as they learn the recorder. This year they were invited to be recorded to play a piece especially for the Crowle Village Christmas Concert.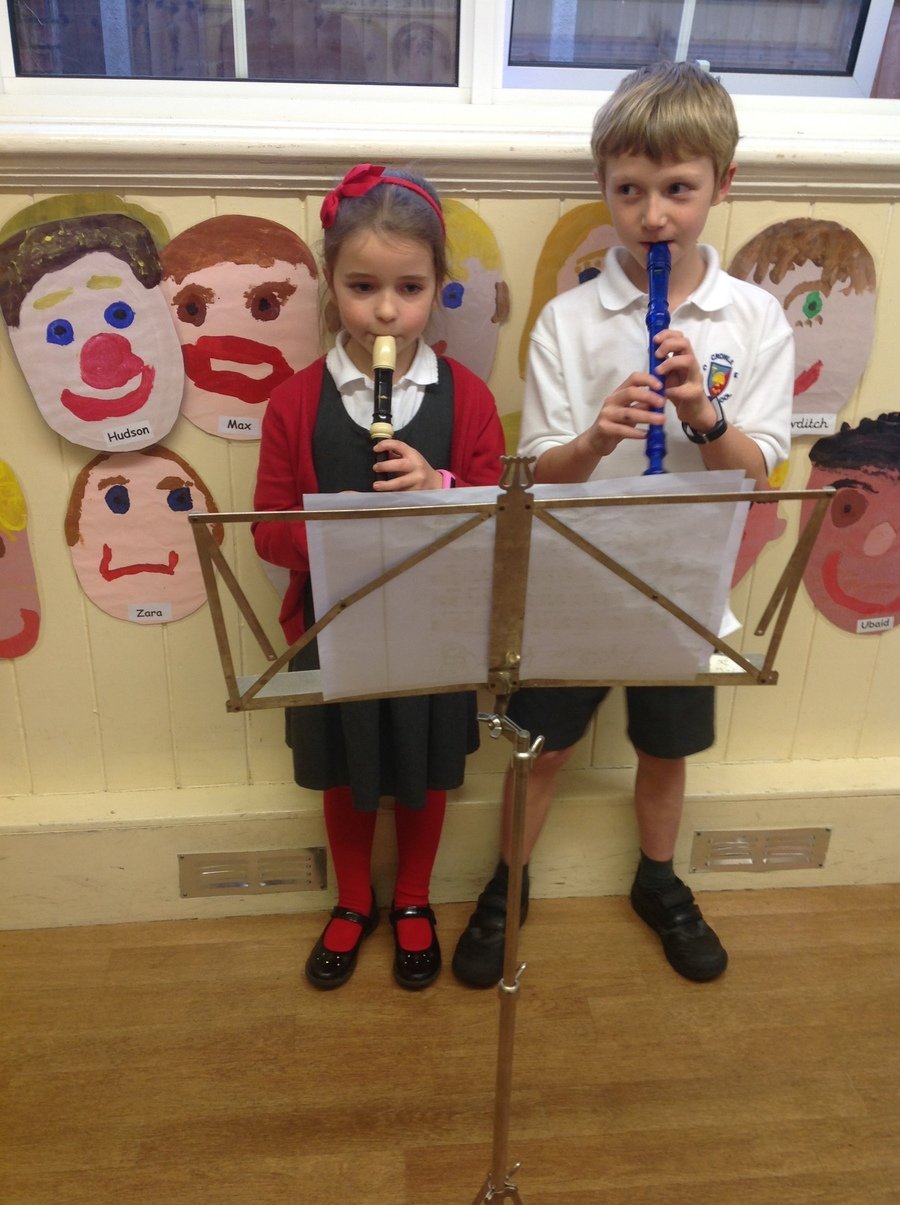 Year 1 - Forest School
As part of transition to Year 1, our pupils go to Forest School every week. They explore natural materials and use them to make and create items using their imaginations. Children are encouraged to talk about how the objects feel and how they join them together to create a natural object.
Y3/4 - Cornet
Thanks to the "Friends of Crowle" all Y3/4 children have cornet lessons. They get to take their instrument home to practice, and have a music specialist work with them on a weekly basis to improve their skills.
Reception - Junk Model Vehicles
As part of their topic "People Who Help Us" Reception class created junk model vehicles to represent those that help us; police car, fire engine, ambulance etc.
Reception - People Who Help Us
The children painted pictures of all the different people who help us.